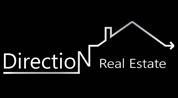 About Direction Real Estate
Direction Real Estate is an industry director in property management and real estate rental services. Direction Real Estate specializes in property management in the most luxurious address in the Middle East, The Pearl Qatar. Additional services also include the upscale West Bay area and all other Doha surroundings.

Our vision in Direction Real estate is to maximize our customer satisfaction and become an industry leader by providing an excellent direction in real estate and property management services in Qatar.

Our mission is we will do everything we can to accommodate your wants before your needs, we will direct you to the path you will not regret, and we will provide you with excellent services according to your specific needs.

Our core values are based on serving our customers with great integrity, conducting business in honest manners, and treating everyone with care, respect, and fairness.

Our commitment is we will maintain great relationships with customers, we will find exactly what you are looking for, and we will make sure that each of our customer's expectations is met perfectly.
Read More
Read less
Our Properties