The Pearl Qatar is a destination of choice offering its residents and visitors an integrated leisure experience. On this fascinating Island, luxury living blends with lively shopping and entertainment, and scenic backdrops are complemented by a thriving community lifestyle, making The Pearl-Qatar a true living wonder. The Pearl-Qatar is UDC's flagship project and one of the largest mixed-use developments in the Middle East. The man-made island sits on 4 million sqm of reclaimed land and is located 350 meters offshore of Doha's prestigious West Bay District. Divided into ten architecturally distinct precincts inspired by the most charming Mediterranean cities, The Pearl-Qatar is considered an iconic site that embodies smart and sustainable features, and offers an eclectic mix of residences, retail, F&B, and entertainment outlets, and houses Doha's fastest-growing community.
Property Trends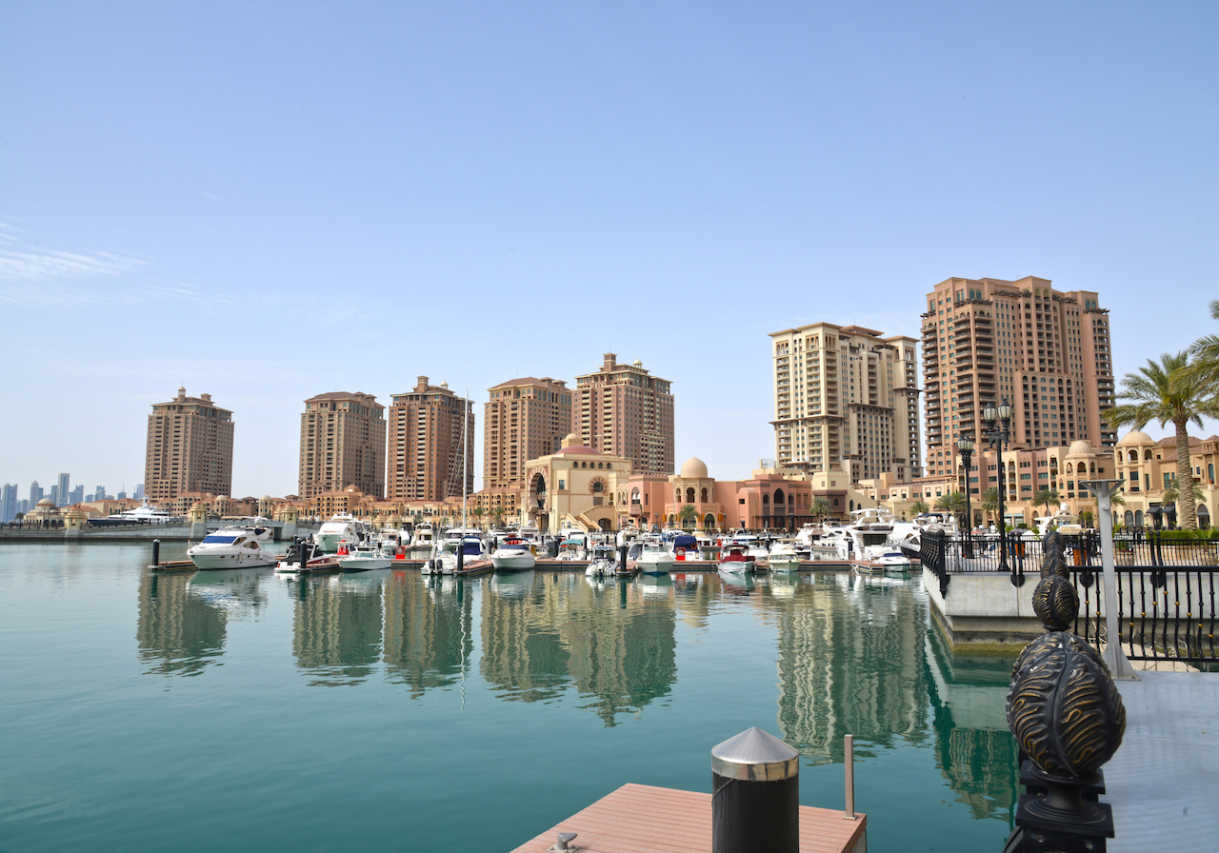 Properties for Sale in The Pearl
The Pearl is known for being one of the inventive development and real estate projects. It offers luxurious waterfront residential apartments and commercial properties. The new development phase is always active in the Pearl. And it is a very popular place for Western-style and modern living. People find multiple choices to buy homes in Qatar with the unique architecture. The new development will add over 32 kilometers of extra coastline for 19,000 homes to adjust 45,000 residents. You find beautiful homes and apartments to buy.
There are beautiful areas like Porto Arabia, Qanat Quartier, and Viva Bahriya to live in. In The Pearl, a one-bedroom apartment will cost you between QR1, 200,000 and QR2, 100,000. To know about the mortgage in Qatar, you should know they are about 48% of your income, and interest rates are 5% for a 20-year mortgage. The real estate sector is rising in 2022. The country provides more options to home buyers, and most of this phase is active in The Pearl.
Properties for Sale
A place of luxury and comfort, The Pearl-Qatar is home to some of the best residential properties that you can buy in the entire Arab region. Here are some of them:
Three-Bedroom Casa
Qanat Quartier
A beautiful and big house, this luxury property boasts fine facts such as a well-equipped kitchen, bedrooms with built-in wardrobes, and a full bathroom complete with a bathtub. The property is also just a short walk away from some of Qatar's best shores, making it a great investment for either a family or a professional.
Viva Bahriya
Sold semi-furnished, this property is known for its top-of-the-line features, such as a fully-equipped kitchen, three master bedrooms with built-in wardrobes, and two parking spaces. The building housing this unit has many facilities, such as a swimming pool, gym, entertainment room, function room, and kids' playing areas. Quick access to the beach is a plus point. Your safety is secured with the building's 24/7 security service.
Properties for Rent in The Pearl
The newly added Medina centrale is known for being a social hub. It offers several properties for rent. Locals, mostly on the weekends, visit the area. It also offers a great number of rental properties. It offers the most luxurious homes for rent. The properties for rent in Pearl Qatar include townhouses for rent and villas for rent. Porto Arabia, Qanat Quartier, and Viva Bahria are the most popular and heavily populated areas where you find multiple options for rental properties.
The Pearl offers 100% foreign property ownership. So the locals and foreigners can invest in homes and property for sale in the Pearl. The apartments for rent in The Pearl, Doha, Qatar, come in different sizes, from studios to five-bedroom apartments. You can avail of a rental property as per your needs and choices.
Most of the buildings in the Pearl include good facilities and good comforts. There you also find many villas for rent in the Pearl. These provide a highly luxurious living style with a private garden, swimming pool, and best amenities. Many villas are located on the Arabian Gulf that has direct beach access. You can get big and ultra-modern luxury villas for rent to have a superb living venture in this beautiful city.
Mostly the homes are unfurnished, and you can outfit your apartment as per your choice. It is a plus point that you can stylize your home according to your liking. If you are looking for a lovely and grand home in the Pearl, you can get the perfect and best option.
Properties for Rent
There are some of the lovely apartments for rent that are only available in The Pearl-Qatar:
One-Bedroom Unit
Medina Centrale
For a 15-month rental contract, you get a lovely semi-furnished unit with built-in kitchen appliances, one given parking space, and 24/7 concierge and security. If you're a busy traveler who's regularly on the move, this unit will fit your lifestyle.
Qanat Quartier
For those getting in the family for the duration of their stay in The Pearl-Qatar, this big apartment unit will give elbow room for playful, growing kids. This semi-furnished apartment with a fully-equipped kitchen and built-in appliances. This unit also has huge windows leading to a private balcony to view the Piazza. Two allocated parking spaces are open, plus round-the-clock security detail.
ROI
The Pearl Qatar is a huge island in Doha. It is a vast island across 4 million square meters with many commercial and residential properties. It is open for freehold ownership for foreigners. It is an excellent location to invest as the property resale value boosts the dignity of the Island's growth, helped by the coming 2022 FIFA World Cup in Qatar. It is hoped to find investors buying and leasing out their properties in Pearl Qatar. It will raise a high return on investment for property owners.
While some towers are still under construction, you can discover many apartments for sale in the finished towers in the Porto Arabia and Viva Bahriya areas. Qatar is hosting the FIFA World Cup 2022; the government has put more infrastructure plans, with new highways, bridges, and even entire townships. It shows that the investors invest in properties and real estate for a wealthy, ever-growing economy.
Invest In Luxurious Living at The Pearl-Qatar Through Saakin Qatar
Living a life of comfort and luxury at The Pearl-Qatar in Doha is within your reach if you have Saakin Qatar to act as your guide. Saakin Qatar offers sales, leasing, and renting related to luxury properties in Pearl.
As one of the country's leading local real estate directories, our team delivers top-quality service to foreign clients investing in the Pearl property market. Having nearly a decade's worth of experience, we can help you guide the legal and cultural trends in buying and renting real estate properties in Pearl Qatar.
NeighborHood
The Main Districts in The Pearl.
The Pearl has 12 neighborhoods (precincts), each with a distinct architectural style. The districts are:
Abraj Quartier

Costa Malaz

Floresta Gardens

Giardino Village

Isola Dana

Medina Centrale

Perlita Gardens

Porto Arabia

Qanat Quartier

Viva Bahriya

Beach Villas

La Plage South
Abraj Quartier
"The Pearl Gateway Towers" has offices and commercial spaces, and it adapts to the two elevated towers in The Pearl. Abraj Quartier precinct includes seven towers, five of which are 36 storeyed high, the other two existing 42 storeyed. These later two nest the access road to the mainland and form the gateway to The Pearl-Qatar. The Avenue of Towers is, also called the Abraj Quartier, is an excellent location for offices, firms, and businesses, especially the admiringly great twin towers.
Furthermore, each of these provides stunning views of the mainland across the azure waters of the Arabian Gulf. The twin towers have a unique architectural design to house high-quality commercial office space crossing 54,693 sqm. Boosting 201 meters tall on either side of the main access road, they greet all visitors who enter The Pearl-Qatar.
Attributes:
36-42 Floors

Tallest Towers on the Island

Lovely Views

All basic Amenities

Up to eight-level Parking Spaces for almost 981 Cars
Costa Malaz
Costa Malaz has many waterside villas designed after buildings located on low islands. There is an islet in Costa Malaz, which hosts the Marsa Malaz Kempinski hotel.
A Peaceful Panorama
Costa Malaz is an oasis of luxury and calm, and both architecture and landscaping spur the climate of a quiet island in a place of great looks. The luxury "Kempinski Hotel" is located on an islet on the main bay of this district. This hotel is edged by fresh sand and has a luxury shell with lovely views and privacy.
Attributes:
Luxury Beachfront Villas

Great Views and Privacy

Villa Properties within 2,000 sqm

Canal Connects to Qanat Quartier Precinct

Direct Beach Access
Floresta Gardens
Floresta Gardens is a small district arranged to form the Colosseum in Rome, with a big clubhouse being the centerpiece.
Prescient Designed Lodging in Mediterranean-style Architecture
It is located in the East of the Viva Bahriya precinct. Floresta Gardens is one of the most special places in Pearl Qatar. This precinct offers a blend of society living options, signified by Mediterranean-style design. Floresta Gardens spans an area of 145,967 sqm. It will be a home for 5,000 residents, ten mid-rise residential towers and 115 villas within three gated villa compounds, and a 3,500 sqm shopping mall.
Attributes:
Ten residential towers

Three gated compounds

Floresta Galleria Mall

Children Playing Area
Giardino Village
Giardino Village is a gated community with homes ranging from 558 to 1,168 square meters. Leisure and sports points are open in this ward.
The Premium Giardino Village is located in a quiet area near the retail hubs of Medina Centrale and Porto Arabia. It is a perfect place for people who look for a private and gated district. The precinct includes several big, grand villas of varying plot sizes. Also, the Giardino Village district gives various investment options for investors or property developers. Likewise, it welcomes a variety of properties, ranging from 470 to 2,427 sqm. There are furnished villas, villa plots, and low-rise building plots with a ground floor and three or five more floors.
Attributes:
Gated Compound with 57 Villas

Club House, Gym, Lounge, Outdoor Swimming Pool, and Tennis Court

"United International School" has a British curriculum for up to 2,500 Students

The Giardino Mall

One of the World's Most splendid locations

Private Beach and Protected Harbor

Named after the World's Most Prized Pearl
Isola Dana
Isola Dana is a chain of islets isolated from the central chain. These islets are designed to host big villas in the future. Isola Dana offers to live just that if you're looking for full privacy. The area is isolated from the main island, and it boards the Pearl's most superb properties.
Pearl Qatar's crown jewel, the Isola Dana precinct, includes nine self-dependent islands and is the most extensive private residential area in Pearl Qatar. It gives amazing living in one of the world's most stunning places. Furthermore, these private islands enable investors to style their living in a unique setting. Grand homes adorn these 18,000 sqm islands, the likes of which cannot be seen anywhere in the Middle East and seldom in the world. Each island has its wide beach and guarded harbor for yachts and motor cruisers.
Attributes:
18,000 sqm Plot Area

The Model of Premier, Private Island Living

Access via a Reliable Causeway and Gatehouse

Area for the Most Exquisite Homes

One of the World's most splendid locations

Private Beach and Protected Harbor

Named after the World's Most Prized Pearl
Medina Centrale
Medina Centrale is mostly a retail district, offering 600,000 square feet of retail space. There are also 538 Mediterranean-style residential units.
The Vibrant Beauty of The Pearl-Qatar
Medina Centrale precinct is a town yard inspired by the cute style of the Mediterranean. It offers a blend of public places, gardens, terraces, canopies, etc. Further, it is a residential locality that brings together the unique grades and delights of the island.
This region comes alive with festivals and events as it turns into a pedestrian-only area on winter weekends. It gives its residents a wide variety of lifestyle incites, all within walking distance. Many play areas are there for kids to enjoy. And the parents sit back and enjoy a choice of sidewalk cafés.
Attributes:
538 Residential Units

130 Retail Shops

Parking area for 3,600 cars

1,900 seats at NOVO Cinemas

6,000 sqm of Public Entertainment Space at MEGAPOLIS

50 F&B Venues

70,600 sqm of all F&B and Fashion & Apparel
Perlita Gardens
Perlita Gardens has green spaces and man-made lakes. Also, it is a gated community located south of Medina Centrale. It is a type of living that gives a blend of villa and townhouses style. The landscaping of this area gives the impact of living in natural beauty. When we talk about a very special feature, the shopping outlets of Medina Centrale are the best to mention.
Attributes
It offers big villas

It offers a private environment

You avail of privacy in a luxurious style

The landscaping is excellent

You find to get it community over here
Porto Arabia
Porto Arabia houses the harbor of The Pearl. You find many townhouses, restaurants, and a 2.5 km seafront boardwalk named La Croisette.
Porto Arabia offers a highly modern design with a blend of outdoor and indoor retail outlets. It has famous international brands, a wide range of F&B options, five-star hotels, and resorts. Further, there is a high level of living and leisure with jolly activities. The district gives amazing comforts and services. You find one to four-bedroom apartments, friend houses, and 123 townhouses but unit sizes from 116 to 900 square meters.
Attributes
31 Mediterranean Style Towers

7,206 Residential Units, including Townhouses

417 Townhouses

360 Retail Shops

3.5 km Waterfront Promenade

95 F&B Outlets

119,000 sqm of Retail and F&B Fashion & Lifestyle Space

891-Berths Marina
Qanat Quartier
Qanat Quartier's model follows the Italian city of Venice; its buildings have Venetian-style features, and many canals run through the city.
It is a private and luxury community where the infrastructure resembles the Venetian. It is the state of Qatar whose waterway is designed with stylish bridges that present a picture of the Italian romantic living style. In this district, you find great shopping boutiques and outlets, and the locals and foreigners can benefit from a wide range of fashion and beauty outlets. More, this district presents a world-class beach with amazing front views. The beach has parking spaces for over 1000 vehicles.
Attributes:
One to Five-Bedroom Apartments

1.6 km of Canals

1,120 Parking Spaces

1,164 Residential Units

Two to Three-Bedroom Townhouses

190 Retail Shops

31,000 sqm of Retail Space
Viva Bahriya
Viva Bahriya has luxury villas inspired by Moroccan architecture.
A marvelous place where you find sophisticated beachfront living
Viva Bhariya is a masterwork of elegant architecture. The environment is eco-friendly—the best you find Moroccan-styled townhouses and Moorish-style apartments in this locality. The district has a desirable beachfront location. It offers a wide range of residential units comprising 124 bedroom apartments and penthouses. These apartments you find in elegant residential towers.
The unit size ranges from 107 to 623 square meters. The townhouses and low-rise blocks present innovative designs and features that have direct access to the beach. Al Mutahidah towers are the most significant residential buildings. It has two connected towers of 24 floors each. High-rise structure buildings have 480 residential units with different dimensions, including luxury apartments, studios, townhouses, and high-level penthouses.
Attributes
28 Moroccan Inspired Towers

1,780 Residential Units

2 km Pristine Beach
Beach Villas
Beach Villas is a residential district containing large seafront villas. The architecture follows French, Italian, and Spanish designs.
La Plage South
La Plage South consists of many circular structures of high-rise apartments & residential buildings.
Public Transport
THE UDC LIMOUSINE:
The Limousine is a good transport service, available FREE, and will transport you in style within the Pearl from 10 am to 10 pm daily. It needs to be booked 10-15 minutes before wanting to depart. Contact them by calling +97444095291.
THE 777 BUS
You avail of this service from Hamad International Airport to The Pearl-Qatar. The bus terminal is located at the Arrivals. If you are exiting HIA Arrivals, it is on your right-hand side, and there is clear signage. Use it to discover the city as the bus goes to/from the HIA airport through Souq Waqif, Corniche seafront, Museum of Islamic Arts, City Centre Mall, and The Pearl Qatar.
For any trip, they have a fixed rate for Route #777, Qar 5. The Limited card 10 QAR & Unlimited card 20 QAR, which is purchasable from the driver, or the Classic Card for Qar 30, is purchasable from the partner merchants (such as Jumbo Electronics at City Center or the Central Bus station).
– The Frequency of the bus is 20 minutes.
WATER TAXI:
The Pearl operates Doha's first and only water taxi service. Both Visitors and Locals of The Pearl-Qatar can enjoy the fun water taxi experience or use the boat to commute around the Island.
Private Transport Options in Pearl Doha
App: Careem

App: Uber

App: Karwa green taxis
The Karwa Smart Card has categories;
1. Classic Card (Cost: QR.30): Rechargeable card for the long term.

2. Limited Card, 24hr (Cost: QR.10): Good for two trips within 24-hrs of purchase.

3. Unlimited Card, 24hr (Cost: QR.20): Good for unlimited trips within 24-hrs of purchase.
You can travel on the bus without a smartcard but will pay a 'no card fee' of QR10 in cash. Further, buses are an affordable option to travel around Qatar.
Clinics & Hospitals
Healthcare in Qatar is always ranked as the best in the Middle East. Qatar's doctors, many ex-pats, are experienced, and Qatar's public and private hospitals are excellent.
Doha Care Services W.L.L. is located in Pearl, Qatar. It is one of the best medical centers.
The Best Schools in The Pearl
United School International
Address: Viva Bahriya Roundabout, Doha, Qatar
Pearl School West Bay Campus
Address: Al Jamiaa St, Doha, Qatar
International Centre for Music, The Pearl
Address: The Pearl Qanat Quartier Nobili - Palazzo 1A, (QQ 6A) Shop 136/137, Doha, Qatar
Pearl School
Address: Al hadara st, Doha, Qatar
The Famous Shopping Malls around The Pearl
Medina Centrale
Giardino mall - LULU
Lagoona Mall
FLORESTA GALLERIA MALL
1 La Croisette
The Gate Mall
Piazza Arabia
The HUB Doha
These are the malls available around the pearl
Lifestyle
THINGS TO DO IN THE PEARL QATAR
While living in The Pearl Qatar means you'll never run out of things to do and enjoy a wide variety of things. Every day, there's always something different to experience and explore.
Shopping
The Pearl features over two million square feet of retail, dining, and entertainment space. You can choose from different shopping options, from luxury shops and boutiques to big shopping malls where you can find grocery stores, outlets, services, and more.
The main retail districts on the island are Porto Arabia and Medina Centrale, but there are more options in other precincts. In spare to luxury brands, such as Armani, Versace, Lalique, and even Bentley and Ferrari, you will find unique stores selling handcrafted jewelry, gifts, pottery, chocolates, and much more.
Dining
Dining is a must-indulge activity in The Pearl, with numerous restaurants, bars, clubs, coffee shops, and bakeshops offering an endless variety of cuisines and experiences. You have a choice of casual and fine dining, street food fair, charming and innovative cafes, waterfront dining, and more. Whether you're craving Asian or Middle Eastern food, French or Italian cuisine, American barbecues with a pint of beer, or just a sweet dessert to go with a cup of espresso, The Pearl has something to delight your palate.
Entertainment
From spending long hours at the beach and jogging at a park to watching a live concert and having a nightcap afterward, The Pearl offers an endless display of leisure and recreation activities for the entire family.
The top entertainment points on the island include:
The Most Popular Restaurants in The Pearl
The Pearl-Qatar is a lively dining destination marked by incredible sights. There is a blend of cafes and restaurants chosen to serve every taste. From the waterfront, nicely dining, and casual family restaurants to quick bites and creative café visions, The Pearl-Qatar fetes food lovers with a complete and delicious venture.
Isla Mexican Kitchen
Hunters Room & Grill
Megu

Emporio Armani Caffe' -Pearl Qatar

The Atelier Art Cafe
The Best Beaches in The Pearl
The Pearl Qatar houses the most luxurious private beach with its majestic artificial islands. The Lido Venezia Beach, TaliaMare, and other private beaches in Pearl, Qatar, have their beach club where you can enjoy peace and leisure activities. There will be cafes to grab a quick bite.Taliamare Beach Club is at the Qanat Quartier beach. It opened in 2017.
Katara Beach has boat rides, SUP, and water skiing. In contrast, it offers a secure environment for families and beachgoers. Located inside Katara Cultural Village, the beach is one the most easily accessible ones in Doha.
How to get there: Katara Beach is situated inside Katara Cultural Village on the east coast between West Bay and the Pearl.
The Most Popular Fitness & Beauty centers in Pearl Qatar
The CrossFit T23 Qatar Doha

Pearl Qatar Porto Arabia

Dynamic Doha

Tower 29, Pearl Qatar

Gymmito Fitness Club Doha

Qanat Quartier, Pearl Doha

Juala Spa and Gym Doha

West Bay and The Pearl Qatar

Niya Yoga Doha

Qanat Quartier, Pearl Qatar

Ride Tribe Doha

Porto Arabia, Pearl Doha

T23 Unloaded Doha

Medina Centrale
Leisure/ Entertainment
Pearl-Qatar is famous for recreational and leisure sports. With its variety of unique indoor and outdoor locations, it has everything a wonderful family day-out could retain.
Kiddy Zone
Kiddy Zone is situated in Porto Arabia and Medina Centrale. It is a plaything mart that lets children and their parents embrace their childhood. It has an interactive play space with creative, educational, electronic toys and many playing items.
Novo Cinemas

Megapolis/Minipolis

Piano Stairs

Curio City

Clay Encounters

Love Qatar's Sign

Carousel

Subzero Ice Lounge

Water Taxis

Boardwalk

Public Playgrounds

Sports Courts
The Best Hotels in The Pearl
Hilton Doha The Pearl Residences

Marsa Malaz Kempinski, The Pearl – Doha

Sedra Arjaan By Rotana

A Turkish Culinary Experience At Hasan Kolcuoglu

Arabesque
Things to consider
Do You Find Hotels in Pearl Qatar?
You find many luxury hotels in and around the Pearl-like,
Marsa Malaz Kempinski. The Pearl at 1.12 km

The Ritz-Carlton, Doha at 1.35 km

Hilton Doha, The Pearl Residences, at about 0.51 km distance
Which One is The Nearest Airport from Pearl Qatar?
The Hamad International airport is 22km from the Pearl. There are public and private modes of transport like buses and cabs available at Doha Downtown to reach Pearl.
What Are the Best Months to Visit Pearl Qatar?
The time from November to April is thought to be the best time to visit Pearl Qatar. The cold and nice temperature with low humidity and dry weather makes it ideal for walking around the Island.
Where Can I Shop in Pearl Qatar?
The Pearl Qatar is home to rich retail shops, malls, and boutiques, showing trending fashion, antiques, pieces of jewelry, and other additions. Floresta Galleria Mall and The Giardino Mall are the most famous shopping points.
What Is The Best Restaurant in The Pearl?
For a unique dining experience, the best restaurants in Pearl Qatar are:
Ginger Club

The Yellow Chili

The Drawing Room Café

Volume Café

Nandos
Where is Pearl Qatar?
The Pearl Qatar is an artificial island over 13.9 km2. The Island has beautiful residential units where one can find the best hotels, restaurants, apartments, etc.
What Are The Common and Best Things To Do in Peal Qatar?
In the Peal Qatar, try the best activities likes:
Shopping from the retail shops

Dining at the road cafes

Beach time-out

Spa and more recreational activities offered
Locations
Pearl Qatar is near West Bay, Doha's business center, Katara Cultural Village, and Lusail City. You can go via taxi or car (Uber is mostly used, and Karwa or Careem). The distance from Pearl Qatar to Hamad International Airport is 30-40 minutes.

The nearest metro station is Legtaifiya (Redline). From this station, you can take the M110 Metrolink bus.
Airport
The Pearl-Qatar to Hamad International Airport is 28 km by road. To know the distance from The Pearl-Qatar to Hamad International Airport, you can use other travel options like bus, subway, tram, and train. The fastest mode to get from The Pearl-Qatar to Doha Airport (DOH) is by taxi, about 25 minutes.
Metro Station
To visit Pearl Qatar island could not get easier than this. Doha Metro's free Metrolink service connects to The Pearl Qatar from Legtaifiya station on the Red Line.
Doha Metro resumed its services on September 1, 2020. It opened the Legtaifiya station on the Red Line, one of the interchange stations between the Doha Metro and Lusail Tram, completing the 37 Doha Metro stations.
If you use the Gold Line or the Green Line, you can change to the Red Line at the Musheirib metro station. Once you reach the Legtaifiya station, you must take the M110 Metrolink bus, which will take you around The Pearl Qatar island.
Stadium
The distance between The Pearl-Qatar to Al Rayyan sports stadium is 19 km by road.
Attributes