In the modern Arab world, Qatar stands out as a country of various interests. It holds numerous industries and many rising opportunities because Qatar has become a desire for many individuals and families among the Arab world and Asian and European youth. Still, few people understand the topography of this country and the benefits and luxuries of life in Qatar. One needs to know the best places available in Qatar for families and individuals.
Best 11 Places to Live In Qatar
Pearl

Al Sadd

Lusail

Msheireb

West Bay

Dafna

Al Wakrah

Abu Hamour

Al Waab

Oryx Island

Al Thumama
Why Is The Pearl An Excellent Place To Stay?
The Pearl is situated north of Corniche. It is equally popular among singles and couples as it has excellent dining facilities and places to visit. This city is divided into four different sections, which are
Parlo Arabia constitutes a path lined with cafes and restaurants.

Qanat Quartier, which is home to private beaches

Viva Bahriya, which is a marina resort

Medina Centrale, which has a hypermarket.
The Pearl is the first place allowed to be sold to foreigners before the government included other places in the list. This city provides Bath Nova, the Art Cinema Complex, with a world-class film experience for movie lovers. Megapolis is available, and transport facilities include limousine rides and water Taxis. This makes it an accessible place to live in Qatar!
Why Should You Live In Al Sadd?
Al Sadd is one of Qatar's oldest and most popular areas for single persons. The reason is easy accessibility to all kinds of markets, including food, glossary, everyday items, and transport. Commercial Area is nearby, so the availability of all the necessary items is no issue for a single person. It is the hub of the commercial Zone. Whether an individual is a poor, rich, or middle class, A Sadd caters to his needs.
Top-notch medical facilities are available in the city, including Doha Clinic and Rumailah Hospital. Three metro stations are available for those who don't own a car. For individuals with medical expertise, this is an ideal place to live as Hamad Medical center is located next to this city.



Read More: 

Interesting Facts about the Pearl Qatar
How Is Lusail Ideal For Living In Qatar?
Lusail city is home to four exclusive islands and almost twenty residential and commercial districts. We are a certified sustainable and comprehensively planned ci, and it combines stylish architecture and a city with excellent facilities and services for residents.
Although this one project is still in progress, it will accommodate many residents with ultra-modern transport facilities. It includes a light-rail train and has different sports facilities available side by side for commercial activities, including hotels, sightseeing places, exclusive beaches, cafes, and shops.
Who will play the final FIFA Football World Cup 2022 at Lusail in Lusail city stadium, which holds a capacity of 80000 individuals? Lusail also holds various festivals, one of which is the Lusail light festival. Significant motor events like Motorcycle Grand Prix and FIM Superbike World Championship are held regularly in Lusail.
The beauty of Lusail is mind-boggling as this city is host to around 50000 trees of different types, which makes it an ideal place to reside in Qatar!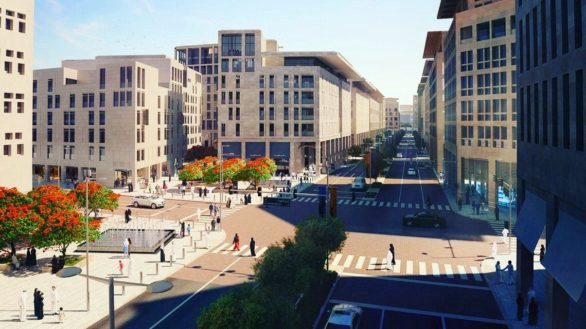 Why Is MUSHEIREB Suitable For Living In Qatar?
In the middle of Doha, a place that is increasingly transforming from an old city into a modern, stylish, and green city, Musheireb. It is one of those areas of Doha that is going through regeneration to ensure the best use of energy through economic means and methods, making it one of Qatar's best places to live.
The city is very close to Amiri Diwan, Qatar's seat of government, and Hamad international airport. The city offers more than 10000 parking slots to cater to the increasing number of cars in the area. Two well-planned parks, namely Albidda Park and MIA Park, also add to the beauty of this city. Musheireb is a budget-friendly place in Qatar for single people, and older apartments cost as low as QR 4000 only. The main Doha metro station is also nearby, so the individual transport problem is solved. Trams are also available in the area.
Why Should You Live In WEST BAY?
One of the places for residents of Qatar, West Bay, comprises the Doha skyline and then spreads north to Katara beach. West Bay is the business hub of Qatar. One of Qatar's most sophisticated and stylish buildings is the Sheraton Grand Doha resort & convention hotels in the west bay. In the other northern region of the west bay lies the popular area of West Bay Lagoon, which holds so many posh private villas.
If a person wants to have a colorful life full of fancy, west bay in Qatar is the answer. The best of Doha is available close by, including five-star hotels, restaurants, and shopping malls. Zig Zag Towers is among the best accommodations available in Doha. You can choose to live either on the top floor of a residential tower, or you can choose to live in a shared villa as well. As this city is adjacent to the Arabian Sea, stunning sea views are a matter of routine for the residents.
Why Is DAFNA A Good Place To Live?
Dafna, the wonderful city for ex-pats' residences, is close to West Bay. But it is more low-budget and still provides nearly the same facilities as West Bay; all basic facilities are available in plenty within a very close range. Villas and apartments are available on a sharing basis and easily have the advantage of being a seaside neighborhood. Moreover, this city is situated close to the workplace, and this place consists of a huge number of budget-friendly apartments.
How Is AL WAKRAH A Good Place To Live?
Individuals who want to visit Qatar or any Arab country must be interested in historical places of Arab culture. If that is the case, Al Wakrah is among the best choices. However, life is relatively slow in the city; however, it is only thirty minutes drive from busy and noisy data. The population is mostly working class. Heritage Village and Souq are great places to visit for a peaceful holiday.
As a coastal city, it is best suited for those whose choice for living in Qatar is to have a peaceful and relaxed-mannered life.
Al Wakrah is a prominent sports-oriented city as well. Al Jonoub stadium has been booked for the FIFA Football World cup 2022.in addition to it, the Al Wakrah sports complex is also a prominent sports facility. There are budget apartments in al Wakrah at ezdan Villages. Moreover, top medical facilities are available at Al Wakrah hospitals.
Why Should You Live In ABU HAMOUR?
Abu Hamour, a beautiful area, is very close to Doha, but still, it operates independently, making it a lovely place to live in Qatar. There are many food markets near the vicinity, so food and living are not a problem in a cost-effective manner for any individual.
It is an ideal place to live, in the main part for fish lovers; there is a strange mix of stand-alone villas and compounds in Abu Hamour. Many budget complexes are available in the Farha complex, Al Fardan Garden, and Safari in Abu Hamour is among the largest shopping complexes in Doha.
AL WAAB
Al Waab is located near Villagio Mall, and this city consists of several nurseries, schools, malls, and restaurants, thus providing a cozy living for individuals and families.
Moreover, a new Al Waab City is also under construction. Aspire Zone is a stone's throw away that provides jogging, walking, and picnic facilities. Al Waab is a noisy city and is ideal for aesthetic people. Aspire Zone is home to Appear park, Aspire Dom, and khalifa international stadium, among the finest stadiums in Qatar.
ORYX ISLANDs
Oryx's beautiful islands are located very close to Hamad International Airport. Orix Island is designed to accommodate spectators coming to see the FIFA Football World Cup 2022. Preparation is in full bloom. Transportation means preferably water taxis and ferries, unlike traditional cars and buses.
Villas of 133 sq meters are being constructed with ultra-modern fittings to fulfill guests' expectations worldwide. Marina hunting is popular in the local area, but students from foreign lands will also be taught about this sport and local hunting techniques. Thus it becomes one of the best areas for residents.
AL THUMAMA
For a person who needs to settle in Qatar but has to visit abroad on short notice, Al Thumama is an excellent option to live. This place is affordable in terms of budget, but it is also situated next to the old airport. It has such a compact road map that it is easy to connect all the important places of Doha City, making a living here easier, accessible, and worthwhile!
Conclusion
So, these are the few top places to live in Qatar. I hope the article was helpful for the ex-pats, who require information about their living.
Saakin real estate directory is a well-managed real estate website in Qatar. To help you find your ideal living space in the different cities in Qatar; an addition to that, it also provides maps and the nearest amenities to make your living as accessible as possible.
To further look into it, you can check:
FAQS
Which Is The Most Expensive Place In Qatar To Live?
West bay Lagoon comprises the most luxurious living and is quite an expensive place in Qatar.
What Is The Price Of Living In Qatar Per Month?
In Qatar, a family of four estimated monthly cost is 3,110$ (11,322QR) without rent. A single person's estimated monthly costs are 883$ (3,215QR) without rent.
Is Qatar A Good Place to Live?
Yes, Qatar isn't very expensive to live in, and it has plenty of opportunities to live comfortably, spend and save a decent amount of money.



Read More: 

Things To Consider Before Buying A Studio Apartment In Qatar