Possibility of Traveling from Qatar to Dubai by road
Are you an adventurer, or is this your first trip from Qatar to Dubai by road? Most tourists admire traveling by road to Dubai from Qatar. You should also experience this road drive. Qatar is a neighboring country to the United Arab Emirates (UAE). Other than traveling by air, it is possible to travel by road, either in your own vehicle or on local transport.
If you are an enthusiast, you can really enjoy traveling from Qatar to Dubai by road. The driving distance between Qatar and Dubai is 690 km. driving from Qatar to the United Arab Emirates takes about 6 hours and 55 minutes. This blog will tell you what driving from Qatar to Dubai really takes.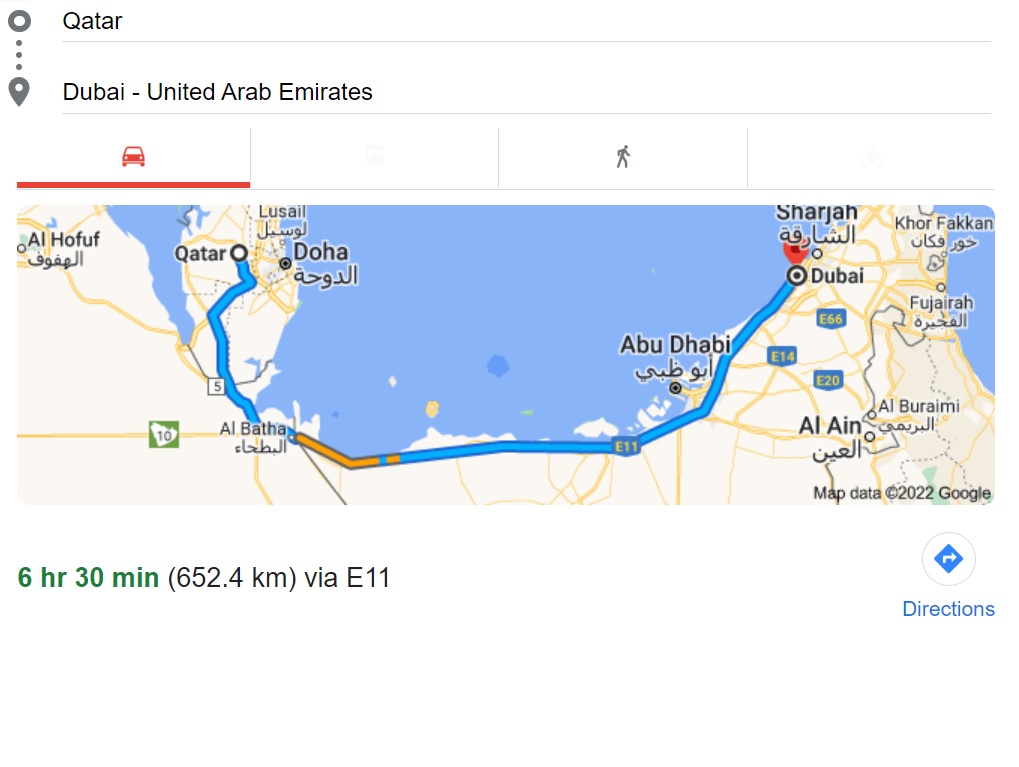 Do You Know The Distance Between Qatar and Dubai?
The travel distance is 690 km and 985 meters between Qatar and Dubai. And if you want to know the distance in miles, then it is about 430 miles. However, if you have your personal car, the travel time, at a consistent speed of 50 km/hour, can be 13 hours and 41 minutes on average.
But if you decide to ride on a bus or a train, it can vary depending on its speed. Besides, hours of regular travel are tiresome. So there are rest areas and food points on the way.
You can find your first resting point to be Salwa (Saudi-Qatar border). Then Ghuwaifat (UAE-Saudi border). And then Abu Dhabi, the UAE's capital. Then you will finally reach your destination, Dubai. In addition, the roads are very well-maintained.
You will be warned if there are roadworks or construction. But before you put on your seat belt, you must have certain mandatory documents for entering the UAE border.
Required Documents for Entering the UAE Border
First of all, get a UAE visa from the GDRFA Dubai site. You can visit the web page
You must go to GCC entry permit, fill out the application, pay a certain amount, and click to submit. Second, if you own a car, then make sure that the car is in your name with a valid driving license. Keep the vehicle registration card along with you and the driving license. Otherwise, you can expect an objection from the transport authority.
Since the start of COVID, it has been mandatory to get a "Negative" PCR test. The report is valid for 72 hours. If you are recovered from COVID, the relevant authority should issue your medical certificate within one month. After you are done with these, you can happily get ready and accelerate.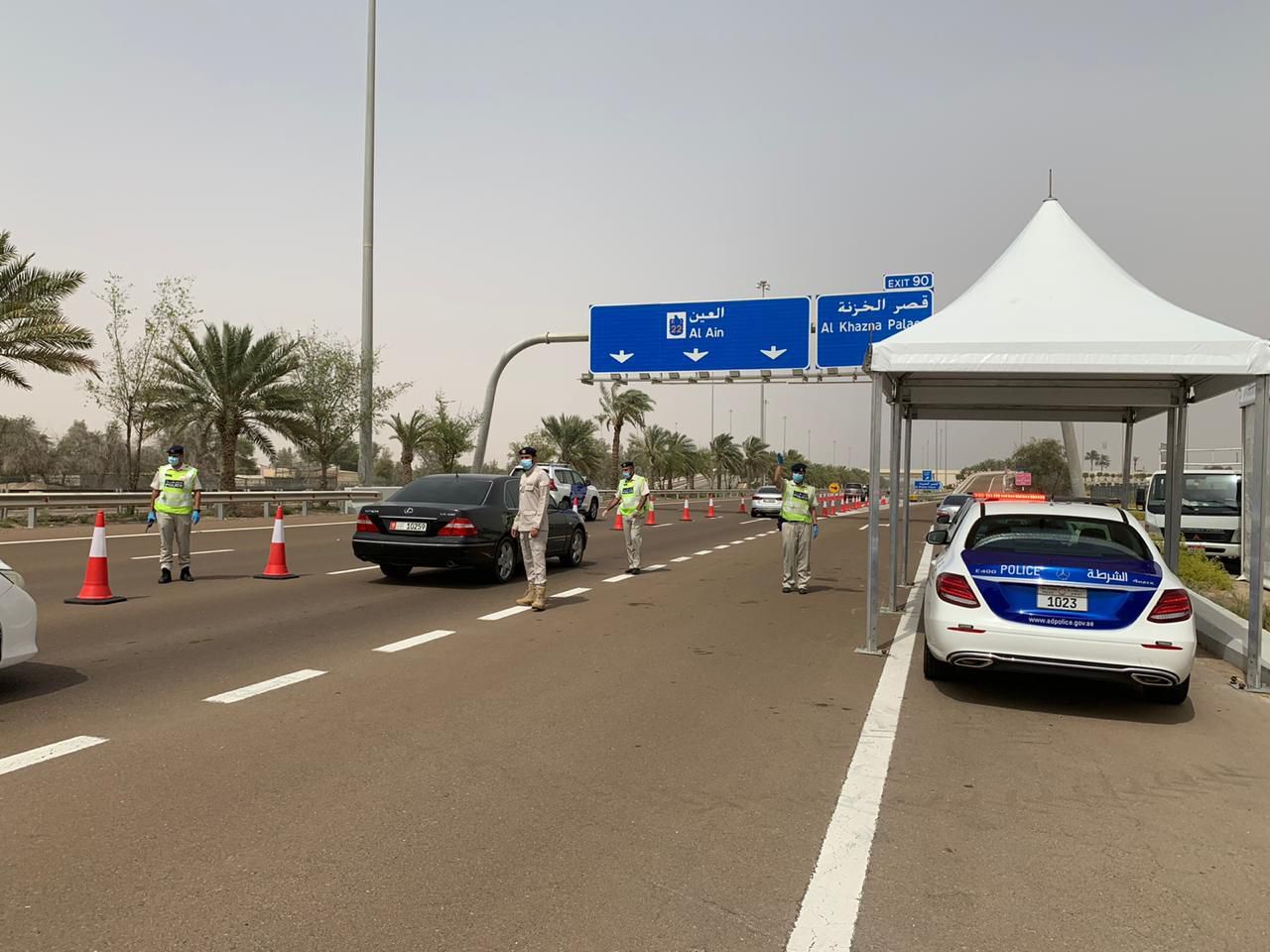 Border Checking
Moving from Qatar, your first stop will be the Saudi border after passing the three gates in Salwa. Here you will first pass through passport and immigration, then customs, and then obtain a car insurance policy for Saudi.
Thus, you will be inside Saudi Arabia. You can get 1 week's insurance at the cost of SAR 138 at Najm Gates (however, the cost may vary depending on circumstances).
The next stop will be the Saudi-UAE border in al-Batha. The procedure is the same as in the first stop. You will pass through passport and immigration, then customs, and then obtain a car insurance policy for the UAE.
Thus, you are inside the UAE. The fantastic point is that you can get a 15-day-insurance for the UAE from the UAE border at the cost of AED 210. This is less time-consuming because you do not have to get one from Qatar.

Read Also: 

Best Car Insurance Companies in Qatar
Road Travel Advice
Due to roadwork and high speed, the initial part of the journey from Qatar is difficult and dangerous. Poor visibility is a result of extreme weather events and dust storms. Roads become slick after rain, and flash flooding can occur. Sands that are drifting make it dangerous to drive in rural areas.
Even though it may be an unnecessary reminder, it is against the law to drive while intoxicated and to flee from the police after an accident. Likewise, it is prohibited to use abusive language or gestures while driving. You must obey traffic laws and drive cautiously for your safety.
If you are riding a motorcycle, you must always wear a helmet, unless you are driving your own car. Put another way, you must use a licensed taxi or limousine. Avoid using shared taxis. Avoid thinking about traveling by sea, as many Gulf regions are delicate due to territorial disputes and security concerns.
Read More: Doha VS Dubai Comparison
Further Guide
Now that we know the procedures, the big question is how easy it is to travel by road. Road travel for about 13 hours or more isn't easy at all. If a tire gets punctured or the engine heats up, there are issues like food, toilets, sleep, baggage, fuel, and car maintenance costs.
Under such circumstances, it is logical to travel by air. You must pay for the visa, COVID test report, and airfare. You do not have to carry food or wait to reach the next gas station for a toilet. However, road travel is still cheaper than air travel.
For further assistance, you will learn from
The cost of travel by air is about $145; by local bus, $163; and by self-drive, $75. So do some homework to make some good decisions. However, the costs may vary from time to time rates.
Conclusion
Prepare yourselves to meet your neighbors' homes and enjoy the sport. You aren't far from Dubai. There are many ways to step onto the land of Dubai, so do not hesitate to take the opportunity.
If you're considering traveling from Qatar to Dubai by road, you can look up places to stop. Almost double-check the weather by checking the road conditions. Find the best hotel stays, dining, and tourist spots to enjoy.
FAQs
Can I take my car from Qatar to UAE?
You will need to have your car's proof of purchase, a filled-up application form, insurance documents, your export plate, your custom clearance papers, vehicle inspection clearance, and proof of residency. Once registration is complete, you have successfully imported your car to the UAE!
Can I Get a Car with Driver?
Dubai is one of the most popular tourist destinations in the world, known for its extravagant lifestyle, stunning architecture, and luxurious accommodations. One of the best ways to explore this magnificent city is with car rental Dubai with driver, which will provide you with a comfortable and convenient way to see all the sights and sounds of Dubai.
How much does it cost to ship a car from Qatar to Dubai?
Shipping a car by road from Qatar to a UAE destination costs between QAR 5,000 to QAR 6,000, excluding the cost of the car.



Read More: 

Is Qatar Better Than Dubai?