Gewan Island, Qatar, is a magnificent destination in the heart of the Arabian Gulf. This man-made island is a true wonder of modern engineering, combining technology and nature to create a unique and luxurious visitor experience. Gewan Island offers a perfect blend of relaxation, entertainment, and adventure, making it a dream destination for those seeking a break from the ordinary routine of daily life.
From the stunning landscapes and pristine beaches to the exquisite hotels and resorts, Gewan Island Qatar is a true paradise for the discerning traveler. The island's breathtaking beauty and unparalleled luxury have attracted people worldwide to come and experience its brilliance.
We will take you on a journey to discover the hidden treasures of Gewan Island, Qatar. We will explore the island's natural beauty, world-class amenities, and unique experiences that make Gewan Island an ideal destination for luxury travel. So, sit back, relax, and let's dive into the magic of Gewan Island, Qatar.
Introduction to Gewan Island, Qatar
Gewan Island is a luxurious new island in Qatar's capital city, Doha. Nestled off Doha's West Bay coast, Gewan Island is a dazzling new addition to the Qatar skyline. This island is a true masterpiece of modern engineering, boasting a seamless blend of residential, commercial, and leisure districts. The island spans over 400,000 square meters and is linked to the mainland by a bridge, providing visitors with easy access to all of the wonders that Gewan Island offers.
Whether you're looking to unwind and relax in luxurious accommodations, indulge in gastronomic delights, or embark on thrilling adventures, Gewan Island has something for everyone.
It is a stunning destination with a unique natural beauty and a modern technology blend. Gewan Island is a haven for luxury travel, featuring world-class amenities, breathtaking landscapes, and many visitor activities. With its pristine beaches, top-notch hotels and resorts, and endless opportunities for adventure and relaxation, it is the perfect destination for those seeking an unforgettable vacation experience.
Features of Gewan Island
Gewan Island is a stunning mixed-use development that has recently emerged adjacent to Pearl-Qatar Island. This innovative destination is designed to accommodate up to 3,500 residents and an additional 3,500 daily visitors. With a total of 657 residential units, Gewan Island is poised to become one of the most sought-after orations in the region.
The island spans an impressive 400,000 square meters and focuses on smart, sustainable design. Notably, Gewan Island features the longest climatized retail walkway, allowing visitors to explore the island's many offerings in comfort and style.
The island offers a range of top-notch amenities, including 110 luxurious guestrooms, a banquet hall and outdoor patio that can accommodate up to 1,000 guests, a Beach Club, a Gewan Golf Club, a Kid's Club, a luxurious spa, and all-day dining and specialty restaurants.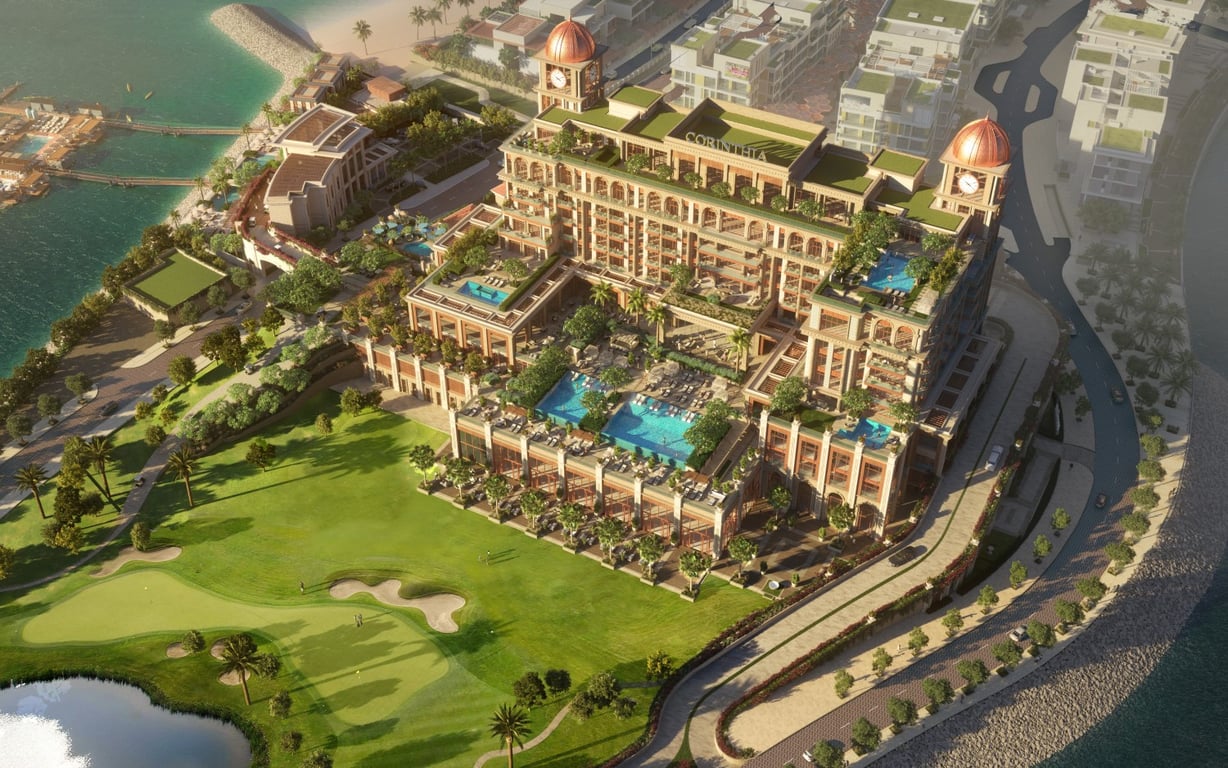 Corinthia Hotel
The Corinthia Hotel on Gewan Island, Qatar, is a true architectural marvel, blending urban luxury with neo-classical design. As a unique landmark on the island, it has become a benchmark of high-end hospitality in Doha. The hotel offers a host of exceptional features and amenities, including 110 luxury guestrooms, a stunning banquet hall and outdoor patio capable of hosting up to 1,000 guests, a Beach Club, a Gewan Golf Club, a Kid's Club, a luxurious spa, and an array of all-day dining and specialty restaurants.
The Corinthia Hotel on Gewan Island, Qatar, promises an unforgettable experience of luxury and refinement for the smart traveler.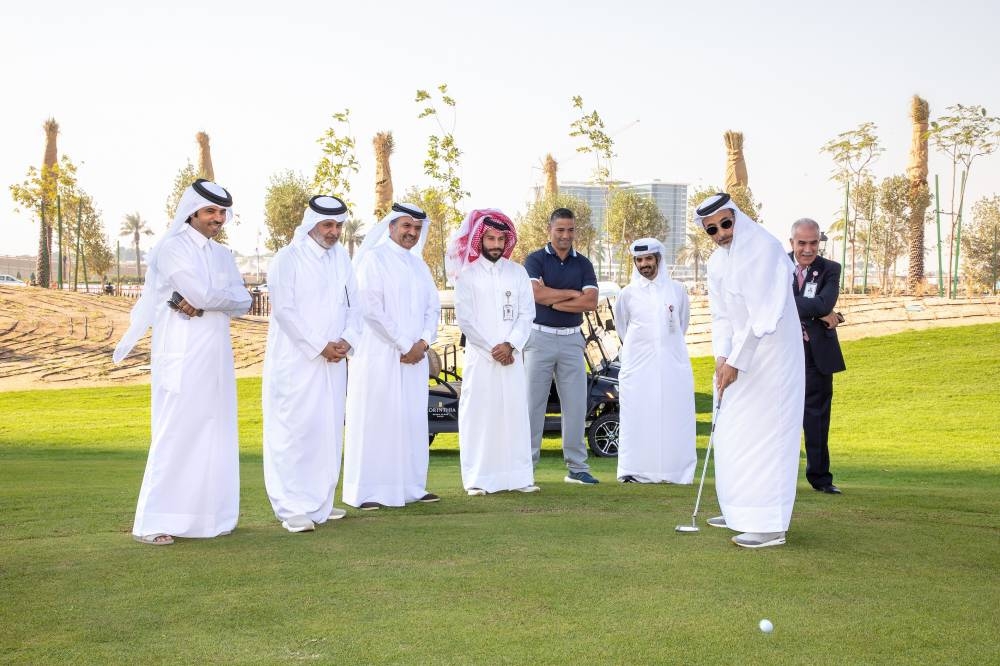 Gewan Golf Club: Where Recreation Meets Luxury
Nestled in six hectares of lush parkland, Gewan Golf Club is a stunning nine-hole course with an exceptional golfing experience. With its impeccable design and luxurious facilities, Gewan Golf Club is the perfect place to socialize and enjoy golf.
Beach Club: The Ultimate Leisure Destination
Connected to Corinthia Hotel Gewan Island Qatar, the Beach Club offers guests a luxurious oasis surrounded by crystal-clear pools and secluded chalets. The Beach Club provides the ultimate leisurely guest experiences featuring exquisite dining outlets.
Standalone Villas: Unparalleled Elegance and Privacy
Managed by Corinthia Hotel Gewan Island Qatar, the elegant standalone villas are situated within a quiet, gated community and offer breathtaking sea views, shared beach access, and impressive architecture. Boasting spacious interiors and unparalleled elegance, these villas are the perfect choice for those seeking ultimate privacy and luxury.
Gewan Island's Spectacular Promenade, Banana Park, and Beautiful Mosque: Unforgettable Features of Contemporary Architecture
Gewan Island in Qatar is a true masterpiece of contemporary architecture and urban planning, where luxury meets functionality. The island's outstanding features are its spectacular promenade, Banana Park, and a beautifully designed mosque. The climatized waterfront promenade is a true delight for the senses, with stunning sea views and a car-free recreational space encouraging strolls and relaxation.
Meanwhile, Banana Park provides a multifunctional space for recreation, with lush green areas, pocket parks, innovative landscaping, shade structures, and creative lighting. On the other hand, the mosque has been designed to create a spiritual environment for worship, with its stunning architecture and peaceful atmosphere. These three features make Gewan Island a truly unique and unforgettable destination.
Crystal Residence: Luxurious Mixed-Use Buildings at the Heart of Gewan Island
Crystal Residence is a stunning mixed-use development located at the heart of Gewan Island, with direct access to Pearl Island via Quartier Bridge. Comprising 15 buildings of six to seven stories each, the development offers 586 residential units, including one-, two-, and three-bedroom apartments and four-bedroom duplexes.
Residents can enjoy breathtaking sea views over the Promenade or city views over the Crystal Walkway. Crystal Residence also offers world-class leisure facilities, including retail, entertainment, and dining outlets on the ground floor. The canopied pedestrian zone of the Crystal Walkway connects the commercial and residential districts, creating a unique and vibrant urban environment.
With 1,682 parking spaces for residents and visitors, Crystal Residence offers luxury and convenience for those seeking the best island living experience.
Crystal Walkway
The Crystal Walkway is a vibrant commercial hub at the heart of Gewan Island. 15 apartment buildings surround this outdoor pedestrian walkway, comprising 101 retail units, 11,000 sqm of shopping and dining area, and public parking for 482 vehicles. It is the perfect place for shopping and relaxation.



Read Also: 

Gewan Island Project - The Pearl-Qatar Complete Guide
The Island's Natural Beauty: A Feast for the Senses
Gewan Island is a true oasis of natural beauty in the heart of Qatar. The island's stunning landscape features lush greenery, tranquil waterways, and clean beaches that offer a feast for the senses. From the sound of the waves crashing on the shore to the sweet fragrance of the blooming flowers, every moment spent on Gewan Island is a sensory delight.
Residents can enjoy various outdoor activities, including kayaking, paddle boarding, and beach volleyball. With its exceptional natural beauty, it is the perfect place to escape from the hustle and bustle of the city and relax in a peaceful, serene environment.
Luxurious Accommodations: The Perfect Place to Relax
Gewan Island offers luxurious accommodations that provide the perfect escape from the stresses of daily life. Residents can choose from a wide range of spacious apartments, each designed with comfort and elegance in mind. The interiors are beautifully appointed with high-quality finishes, designer fixtures, and premium appliances.
From the moment you step inside, you'll feel calm and tranquility. You can enjoy stunning views of the island's natural beauty from your private balcony or dip in the crystal-clear waters of the swimming pool. With its world-class amenities and exceptional luxury, Gewan Island is the perfect place to relax and recharge.
Culinary Delights: An Unforgettable Gastronomic Experience
The island offers an unforgettable culinary experience that will delight even the most discerning foodies. With various restaurants, cafes, and bars, the island's dining scene offers something for everyone.
From fine dining to casual cafes, each establishment offers a unique culinary experience featuring various cuisines worldwide. Whether you're in the mood for a gourmet meal or a refreshing cocktail, Gewan Island has it.
Thrilling Adventures: Activities for the Adventurous Traveler
For adventurous travelers, Gewan Island offers various thrilling activities to pump your heart. Take a Jet Ski ride along the coastline, explore the island's waterways by kayak, or try windsurfing. You can also go on a scuba diving expedition to discover the vibrant marine life that surrounds the island.
For those who prefer to stay on land, there are beach volleyball courts and walking trails to explore. Whether you're seeking an adrenaline rush or a fun new challenge, the place has something for everyone.
Spa and Wellness: Rejuvenate and Relax in Paradise
Gewan Island offers a serene sanctuary for those seeking to rejuvenate and relax. The island's world-class spa and wellness facilities provide the perfect escape from the stresses of daily life. You'll feel refreshed and rejuvenated in no time with a range of luxurious treatments and services, including massages, facials, and yoga classes.
The island's natural beauty and tranquil environment provide the ideal backdrop for a truly relaxing experience. Whether you want to pamper yourself with a spa day or chill with a yoga class, it is the perfect place to rejuvenate your mind, body, and soul.
Art and Culture: An Immersive Experience of Qatar's Heritage
Gewan Island offers an immersive experience of Qatar's rich culture and heritage. The island's art and culture scene showcases local talent and traditional craftsmanship through various exhibits and events. Visitors can explore the island's art galleries, attend live music performances, or participate in traditional craft workshops.
The island's architecture and design also pay homage to Qatar's cultural heritage, featuring elements of classic Islamic design and modern innovation. Whether you're an art enthusiast or simply curious about local culture, it offers a unique and enriching experience that will leave you with a deeper appreciation for heritage.
Sustainability: Gewan Island's Commitment to the Environment
Gewan Island is committed to sustainability and protecting the environment. The island's buildings and infrastructure are designed to minimize environmental impact, using eco-friendly materials and sustainable practices. The island's landscaped areas are irrigated with recycled water. A comprehensive waste management system ensures that waste is minimized and recycled.
The island also has a dedicated cycling and walking path network, encouraging residents to use sustainable transportation. Island's commitment to sustainability ensures that future generations can enjoy the island's natural beauty and resources for years to come.
How to Get There: Transportation Options and Tips
Getting to Gewan Island is easy and convenient. The island is located just off the coast of Qatar's capital city, Doha, and is easily accessible by car or taxi. If you're coming from further afield, Doha's Hamad International Airport offers numerous flights from around the world.
Once you arrive in Doha, you can take a taxi or rental car to the island. Alternatively, the island offers a water taxi service that can transport you directly to the island from various locations along the Doha coastline.
Tips for Planning Your Gewan Island Qatar Vacation
When planning your vacation to Gewan Island, research the island's amenities and activities to make the most of your trip. Consider booking a package with accommodations, dining, and activities to save time and money. Be aware of the weather conditions during your visit and pack accordingly.
And remember to bring comfortable walking shoes and appropriate attire for the island's outdoor activities. With a bit of planning and preparation, you'll be able to enjoy all that it has to offer and create lasting memories.
Discover Off-Plan Apartments for Sale on Gewan Island with a 5-Year Payment Plan
Looking for a new home or investment opportunity? Check out our off-plan apartments for sale on Gewan Island! With a flexible 5-year payment plan and a down payment of just 10%, owning a piece of paradise has never been easier. Our team of experienced real estate agents at Saakin Qatar can help you navigate the property market and find your dream property. Contact us today to learn more!



Read More: 

Upcoming New Projects in Qatar 2023