Qatar Airways is one of the best leading airlines in Qatar. It has delivered an unparalleled experience in the state and the world. The airline has even set specific trends that people follow to achieve success. They acknowledge the spirit of collaboration and teamwork.
Qatar Airways always creates opportunities for you to explore your career on its platform. It praises talented people and provides chances to get boundless possibilities to get tailored jobs. If you can find a certain job in Qatar Airways based on your interests, you might apply for it.
It believes that unique ideas and undaunted passion together make a stronger impact on growing faster. Try your luck by searching for the relevant job according to your qualifications and interest in Qatar Airways.
How to Search For Jobs at Qatar Airways?
You can search for them from the jobs listed on Qatar Airways' official website. You will see many jobs listed if you click the "search job" option. These different lists display jobs described by the title with the relevant eligibility and criteria. You can scroll down to search for a relevant job option.
There is also the option of job sub-categories. You will also find filters to make your search easier. You can even subscribe to create job alerts through this website. In this way, you will regularly get updated listings of jobs and any relevant news to apply for a job in Qatar Airways.
Besides that, you can also search for a job on different portals and even in classifieds. You can also search for a relevant job with Qatar Airways in a newspaper. But the best way to hunt for a job at Qatar Airways is through its official website.
Applicant Login Section at Qatar Airways Website
You can also create an account on the website to search for a good job at Qatar Airways. You have two more options to search for and apply for through login. You will get notifications and responses if you apply for a listed position.
The recruitment process of Qatar Airways is very biased and systematic. It requires recruiting many candidates worldwide and creating employment for them. Suppose there is any kind of recruitment fraud.
In that case, Qatar Airways takes it very seriously and will help you stop falling victim to such false recruitment and fraud. If you suspect something rare or false, you can claim to recruit for Qatar Airways group.
Different Job Categories at Qatar Airways
Qatar Airways posts different categories of jobs. Some of them are;
Aircraft engineers

Airport operational management

Cabin crew and cabin services

Business support

Administration

Cargo and airport operations

Customer care and call centers

Corporate and commercial

Chefs'

Hotel receptions

Information technology

Safety and Security

Technical stores and supply chain

The integrated operations center

Human resources



Read Also: 

What are The Highest-Paying Jobs in Qatar?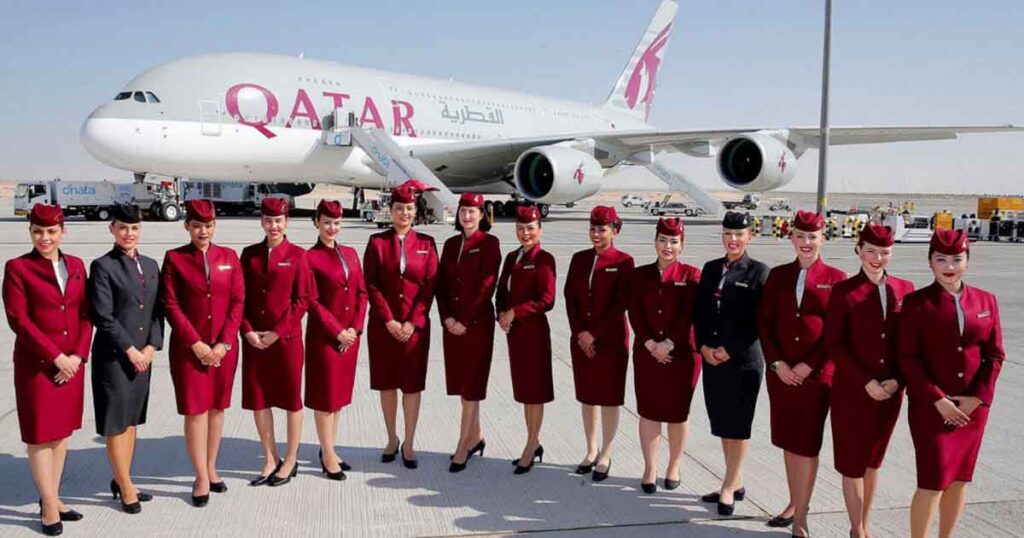 Can I Apply For An Air Hostess Job At Qatar Airways?
You can apply for an air hostess job at Qatar Airways by attending the declared Recruiting Events. You can also apply for an air hostess job online if the job position is posted on the website. You need to provide your updated CV online. You will be contacted to prepare for the open day if your application is shortlisted.
Requirements:
Minimum of 21 years of age

Good communication skills

High School Diploma

Fluency in written and spoken English

Outgoing personality with excellent interpersonal skills

Ability to work within a multinational team

Passionate about customer service and traveling

Excellent health and fitness

Readiness to relocate to Doha, Qatar
If you get a chance, meeting members of our Cabin Services Recruitment team could very well offer the chance to speak with a hiring manager one-on-one. If you are selected, you will move on to our Evaluation Process. All chosen applicants will then continue to our Assessment Center, where they will actively engage in testing exercises.
How to Get a Qatar Airline Job
Qatar Airways requires professionals for its diverse positions from around the world. It offers a wide variety of jobs and job categories. It has a specific process and requirements for recruitment. So, if your qualifications meet the conditions, you can apply for a relevant job at Qatar Airways.
You can browse job postings for Qatar Airways on their official website. You can even contact the airlines directly through communication and contact details provided on the website.
Contact Details:
QATAR AIRWAYS

Qatar Airways Customer Care

Doha, Qatar

(+974) 4144 5555
How Do I Get Selected For Qatar Airways?
When you apply for a job at Qatar Airways, there are different stages to the application process. The candidates are required to complete an online form. It is a kind of assessment taken as a part of the interview. If you are selected, you will be informed about the benefits and payroll package that Qatar Airways offers.
Then there is a final interview that is conducted for about 10 to 15 minutes. The interview is based on specific questions focused on the information you have provided on your C.V. They also ask about your professional experience, previous related experience, your readiness to relocate and take the position, and so on.
Can I Apply Online For Qatar Airways Jobs?
Yes, you can apply online for a job at Qatar Airways. You need to fill out a Qatar Airways application online. When you are applying, you need to answer some specific questions that are related to your education, your relevant work experience, and your availability to start.
In other situations, Qatar Airways accepts applications online and in person during recruitment events. So, if you have the potential to join Qatar Airlines, you can apply for an open position online. You must have good communication skills and an excellent command of the English language, with a positive attitude.
Can I Check My Job Application Status?
When you submit your application for a job at Qatar Airways, you can check your application status regularly. You can check your application status on the website by logging in. If you are shortlisted, you will be invited to an interview.
How Do I Get Hired At Qatar Airways?
Qatar Airways has a dynamic framework with pride for the airline. It creates employees through recruiting and staffing events that take place across the globe. So Qatar Airways hires the employees through a specific procedure.
You will be notified via email or phone call if you are shortlisted for a certain job. However, airline management prefers candidates who can easily move to different destinations and locations for work.
The Benefits of Working at Qatar Airways
You will have many advantages if you get a job at Qatar Airways. You get travel discounts and diverse prospects to build your career experience. The airline offers employment to full-time workers with benefits such as
Healthcare services

The medical and dental insurance and retirement plans.

Employee discounts and assistance programs include paid leave or paid time off.
Why Should You Join Qatar Airways?
Qatar Airways is the biggest airline and the fastest growing air travel platform in Qatar and the world. Qatar Airways has excellent customer service. It has been awarded for its high-quality performance and for delivering exceptional frontline travel services.



Read More: 

8 Most High Demand Jobs in Qatar