A comprehensive guide to help Expats buy home in Doha, Qatar
You need to choose a place to live if you move to Qatar. The best option is to buy a home and stay there permanently. Therefore, it would be beneficial if you decided to buy a home in Doha, Qatar, for your living. Doha is a stunning city with a luxurious way of living.
Beautiful villas and apartments for sale are available across the country. Residential real estate is available for purchase all around Doha, Qatar. However, if you are a foreigner, you can only purchase property in particular freehold regions, allowing you to own a property. Here, you will find a detailed guide and the figures you need to be aware of before making your first home purchase in Doha, Qatar. You will greatly get helped by the following pieces of advice.
Key Tips to Know When Buying a Home in Doha, Qatar as an Expat
1. Evaluate the Cost of Buying Properties in Doha, Qatar
Finding out the cost of accommodation is one of the most crucial things you'll need to do if you're considering moving to Qatar. The good news is that, despite rising, prices are still well below the expensive levels you'll find in other countries.
It's good to remember that property costs vary depending on the area you're considering, like Pearl. Prices per square metre in Qatar varies from QR 12,000 to 25,000 (about USD $3,200 to 6,800). You should anticipate paying between QR 7,500 and 8,500 (or roughly USD 2,300 to 2,300) per square meter in Al Sadd.
2.

Expats can Get Mortgage
As an Expat, you can obtain a mortgage and purchase a freehold or leasehold property. The following is a list of the Qatar Central Bank's rules regarding mortgage lending to foreign homebuyers.
20 years is the maximum mortgage tenure term.

At the time of loan maturity, Expats must be 65 or older.

Foreign buyers must put down at least 30% of the purchase price.

The bank will set the maximum loan amount, and the loan to value can only be up to 70% of the property's cost (this can range from QR 3 to 4 million depending on the bank and loan type).

The loan amount is determined based on the monthly income and other financial obligations. Including other debts, repayment cannot be more than 50% of the borrower's income.
3. Directly Contact the Bank to provide a Mortgage
Which Banks Provide Mortgages For Buying A Home In Doha, Qatar?
A few different mortgage choices are available if you want to buy a new home in Doha, Qatar. You'll probably approach regional financial institutions like Doha Bank, Commercial Bank of Doha, and Qatar National Bank for financing, while you can also contact a few global institutions like HSBC. You must start looking into the banks that will finance the specific home you want to purchase in Qatar and that have approved the developer.
The location of the property and your preferred lending bank affect the sorts of mortgages available. Doha Bank provides a green mortgage at considerably reduced rates if you're purchasing an energy-efficient property. Developers can also direct you to the bank that will finance their projects, and you can choose a lender that will align with your investment objectives.
Read Also: 

How to Avoid Mortgage Fraud
5. Consider the Checklist before Applying for a Mortgage
It could Save Your Time and Money
These documents include:
Copy of ID and passport

Salary certificate addressed to the concerned bank

The latest six-month bank statement

A liability letter addressed to the concerned bank if the loan is transferred from a different bank

Completed bank application form

Quotation from the developer mentioned the payment plan or copy of title deed and property images, if available

Down payment receipt

Security cheques post mortgage approval.
A self-employed Expat needs different documents than one employed there on a salary. The following papers have to be ready:
A passport and ID copy

The business's financial statements over the past two years

A copy of the business registration

If the account is held at a different bank, the most recent 12 months' worth of business statements

The most recent six months' personal bank statements.

Filled-out bank application

The developer's quotation mentioned the payment schedule, a copy of the title document, and any available property photographs.

Receipt for the deposit

Post-approval security checks for mortgages.
Both leasehold and freehold properties use the same legal documents. However, there is a difference in the following situations:
It is necessary to give the property map and title deed.

The original contract between the seller and yourself will need to be given for self-employed foreigners purchasing resale property in Qatar.

If you purchase a leasehold property, you will have the option to extend the lease for an additional 99 years and benefit from the 99-year leasehold tenure.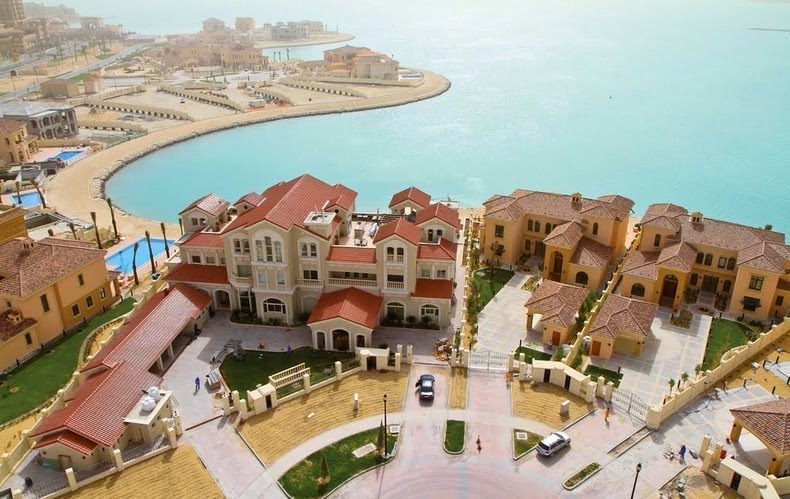 6. Avail Benefits by Choosing the Best Location to Buy a Home in Doha Qatar
The best investment options in Qatar for foreigners are available in nine interesting communities open to foreign investors and buyers who wish to purchase 100% freehold property.
West Bay Lagoon

Lusail

Pearl

Al Khor resort

Al Dafna (Administrative area 60)

Al Dafna (Administrative area 61)

Onaiza (Administrative area 63)

Al Kharaej

Jabal Thuaileb
Furthermore, 16 regions in Doha, Qatar, offer leasehold properties that foreign investors can buy.
Msheireb (Area 13)

Fareej Abdulaziz (Area 14)

Al Doha Al Jadeeda (Area 15)

Al Ghanim Alateeq (Area 16)

Al Rifaa and Old Al Hitmi (Area 17)

As Salatah (Area 18)

Bin Mahmoud (Area 22)

Bin Mahmoud (Area 23)

Rawdat Al Khail (Area 24)

Al Mansoura and Fereej Bin Durham (Area 25)

Al Najma (Area 26)

Umm Ghuwailina (Area 27)

Al Khulaifat (Area 28)

Al Sadd (Area 38)

Al Mirqab Al Jadeed and Fereej Al Nasr (Area 39)

Doha International Airport (Area 48)
7. Common Things to Know about Living in Doha, Qatar
Climate

Location

Lifestyle and Culture

Shopping

Surroundings

Food
8. Common Questions to Consider
What Type of Amenities Does a Home Offer?

Calculate the Expenses as per Your Income or Salary

Can You Afford Maintenance and Repair?

Get awareness of the Procedure to Buy a Home in Doha, Qatar
When someone lives at home, one wants every facility nearby. Like;
Groceries

Mosque

Pharmacies

Shopping malls

Gardens

Gymnasium

Sports court

Children playing area
9. The Best Solution Is To Take Help from Real Estate Agents
In Doha, Qatar, buying a home is a procedure you cannot manage without skills. You should get help from the following resources to make it simple:
Real estate agents

Real estate directories and websites

Legal assistance
You can also hire a reliable attorney to manage the homebuying process
10. Discover the Perfect Property for Sale in Doha with Saakin Qatar
Living in Doha, Qatar, is a unique experience. You would want to live in one of the world's most exciting cities. From finding the ideal venues to finalizing the contract and getting you across the line, Saakin's staff is here to serve you at every stage. The exceptional local real estate professionals at Saakin Qatar can assist you with purchasing residential and commercial properties in Pearl Qatar, Lusail City, West Bay, Msheireb Downtown, and surrounding areas.
Why not get in touch with the Saakin property website to know more about buying home and residential property in Doha, Qatar?
FAQ
What are the different kinds of home types in Doha, Qatar?
Apartments for sale

Studios & one-bedroom apartment for sale

Standalone Villas & Compound Villas for sale

Townhouses for sale

Penthouses for sale
How to Find the Best Property for Sale in Doha, Qatar?
You can search for buying properties in Doha, Qatar, in online real estate directories. Saakin-Qatar is the best real estate website to find the best property for sale.
What are The Most Popular Residential Homes in Doha, Qatar?
Apartments are the most popular and well-liked types of housing in Qatar. All around the country, there are luxury housing types.
Studio apartments

Furnished apartments

Semi-furnished apartments

Unfurnished apartments

Serviced apartments to invest
How Much Does it Cost to Buy a Home in Doha, Qatar?
Property Prices in Qatar
In Doha, prices begin at about QR 9,000/sqm and shoot up to QR 25,000/sqm; the average is around QR 15,000. At The Pearl, a Riviera-style development on the Doha cost, a one-bedroom apartment will cost you between QR1, 200,000 and QR2, 100,000.
Conclusion
Here in Doha, Qatar, elegance, and adventure are waiting for you. There are numerous ways to become familiar with this country's distinctive culture and feel at home, whether it's a challenging trip across the desert, an informative tour of the city, or an exploration of its delights.
From finding the ideal locations to closing the contract and getting you across the line, our experts are here to serve you at every stage. You can purchase residential properties in Pearl-Qatar, Lusail City, West Bay, or Msheireb Downtown with the help of Saakin Qatar.
We take great satisfaction in providing top-notch services, being one of the few leading real estate companies in Qatar. Prioritizing the needs of our clients, we pay close attention to all of their worries and desires.
Read More: 

Top 10 Best Areas and Cities to Live in Qatar