Are you thinking about buying a penthouse? It would be perfect to say that it counts as one of the most luxurious living places to reside. Penthouses are high-end standardized spaces, letting you see the world from height. Moreover, it has abundant indoor and outdoor space that keeps privacy within—making it a dreamy place for anyone to live! Penthouses in Qatar are one expensive investment, and they cost far more than regular apartments as the view is also quite remarkable.
The cherry on the top and the penthouses are designed exquisitely, symbolizing richness. These are highly in demand during the rapid development in Qatar. But before buying a penthouse, one must review the pros and cons. Though indeed it is a lot advantageous but possesses a negative side too! Let's look at the advantages and disadvantages of buying a penthouse in Qatar.
What Are The Edge Of A Penthouse In Qatar?
Exquisite View and Outdoor Space

Peace and soothing environment

Private and silent living

Symbol of status

Central location

Profitable investment.
1. Why Exquisite View And Outdoor Space Is Important For A Penthouse?
Residents in Qatar enjoy a fantastic scenic view with ample space around their place to dwell! The penthouses acquire natural sunbeams and air ventilation. Let it be any function or family gathering, and it's an ideal space for gatherings. Located at the utmost top, the residents can get their sanitation checked. To make your soul undergo a soothing experience that makes the penthouses a worthy place to live in.
2.
How Does It Possess A Peaceful And Soothing Environment?
Located at the utmost top of a magnificent building, the penthouses possess a sound blockage of the noise pollution and the hustle-bustle from the city side that usually enters through the Apartments. Providing a soothing view with fresh breezes surrounding the penthouses provides tranquility and is free from the neighbor's disturbances, as they cover half floor to the entire floor at times.
3. How Does It Offer Private and Silent Living?
The residents in Qatar enjoy peaceful private living as they generally do not have neighbors, which means that when you return home, only privacy and silence await you. Moreover, amenities like gymnasiums and swimming pools are solely offered to the owners of the penthouses, and in some buildings, hotels even offer them their separate exclusive elevators. This makes their living in this apartment a dreamy one!
4. How Is It A Status Symbol?
Penthouses are pretty expensive than apartments, making them an amenity only affordable to wealthy people, making them a symbol of wealthy people. The penthouses in Qatar acquire lots of space and substantial elite rooms with high-end finishing. Moreover, it also offers customized facilities and special equipment such as separate lifts, which adds to the price and luxury of the penthouses.
They possess a large floor and other advantages like a heated rooftop as the heat rises to the top floor. It is also free from mosquito infestation as the height increases, adding to its pros.



Read More: 

Interesting Facts about the Pearl Qatar
5. Why Do They Have A Central Location?
They are located above the apartment buildings; these vertical architectures are generally constructed in central locations, mainly in the epicenter of busy cities. This is to make commuting more straightforward and accessible. The residents also enjoy the advantage of services and a marketplace close to their penthouse. However one disadvantage also seeps within, the busy area might create a traffic issue, and cars getting to wait might be a con. However, the constructors in Qatar make sure that the penthouse owners enjoy several facilities.
6. How Are Profitable Investments?
Penthouse is mostly a recession-proof investment as their demand is high, thus while selling, it will be a profitable investment. It's rapidly gaining popularity, and many ex-pats come to this bustling golf city to reside and spend their luxury holidays in their personalized penthouse!
7. How Is It Safe and Secure?
Alone on the rooftop might be fearful, especially if you find someone hiding in the dark. Well, fear not because penthouses in Qatar are one safe place, as nobody can crack through the doors unless parachutes strike in. Moreover, as they enjoy being on the top of the building, they have a gated security system, guards, and CCTV cameras, making them a safe, secure, and cozy place to live.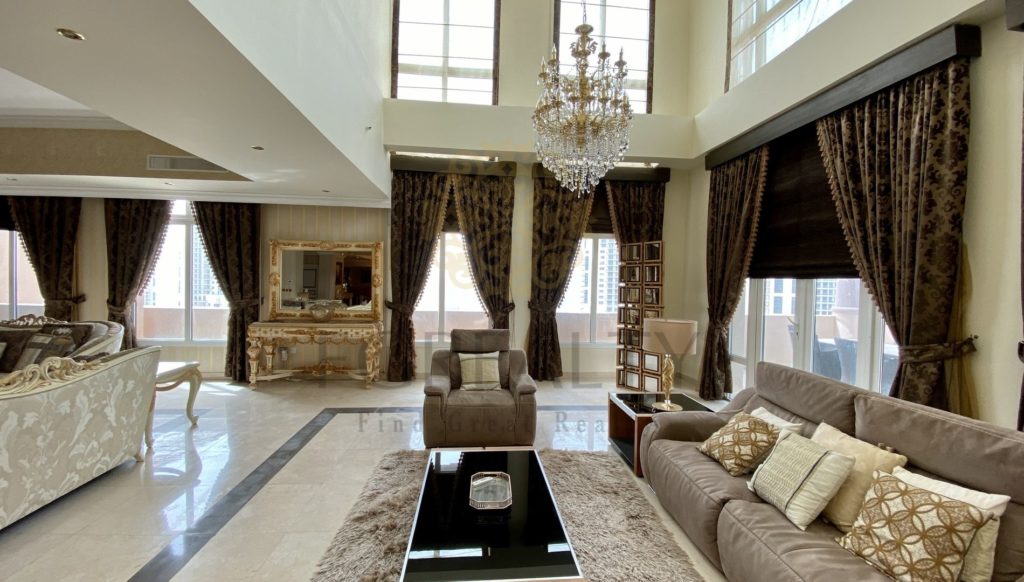 What Are The Disadvantages Of Penthouses In Qatar?
Here are the glittery pros of the penthouses in Qatar that would make you buy one exquisite living space now. Let's look at the disadvantages of living in it.
Disadvantages of Living in Penthouses in Qatar:
A long way up!

Rooftop amenities

Weather calls hard!

Safety hazards

Management and keeping up

Hosting guests and visitors.

Quite an expensive lifestyle.
These few disadvantages might overshadow your preference for living in a penthouse. In addition to that, these factors might help you to look deeply into consideration before making such a big decision.
1. Why Is The Height Of The Penthouses Important To Look At Before Buying?
Though it feels dreamy, once you visit it, however, living there is a different experience. An elevator isn't a luxury but rather just a way of traveling up, and this might take time and would be restricting mobility if anything heavy is being carried. In addition to that, if the elevator stops working, the next thing you do is take the stairs, making it too long and a tiring experience. One more thing is that a lot of space on the rooftop is taken by the construction and building amenities which does not bring the beauty and use as the thought of.
2. How It's Rooftop Amenities A Problem?
In most modern buildings, amenities are constructed over the rooftops, such as gyms, cafes, cinemas, etc. Though this can be considered pros, the loss of privacy might be a con; the heavyweight lifts or the noise of a loud audience of parties going on might not be the ideal depiction of the rooftop holiday. Your imagination has been captured!
3. How to do it. Do they face tough Weather calls?
Although the rooftops might be one of the fantastic choices to enjoy the temperate weather with a cup of coffee, it can also have negative impacts. The weather in Qatar gets extreme at times. The rooftop penthouses generally have large windows and transparent sights to exploit the magnificence and enjoy the weather to full. However, these unobstructed views might provide less shielding from the blazing scorching sun or the chilly winter nights! Thus, you should either get ready to face the challenges or pay the hefty bills!
4. How are Safety Hazards An Issue?
Safety is a prime reason to live in any area. It would help if you didn't overlook safety hazards before settling into any place. There are generally fire and electricity hazards in vertical buildings. Be sure that the building you chose for your penthouse in Qatar has an adequate emergency exit and practice mock drills in case of any natural calamity. As penthouses dwell on the roof, their safety should be looked ahead, and management should be well.
5. How are Management And Keeping Up Difficult?
The staff and the management faculty generally invest themselves in satisfying most of their residents. Due to this, they might lack efficiency when dealing with the one person dwelling on the rooftop and for services such as room cleaning and private facilities. In addition, problems such as leaks and seepage in rooftop rooms can happen; though they put in the best effective system they can, any technical faults would knock on your wallet to correct themselves.
6. How Can Hosting Guests And Visitors Be A Problem?
Rooftop dwellers enjoy the advantage of being alone with no neighbors; however, this can also be a con because any random guest unexpectedly arrives; how would one fetch something from the nearest market? Going up and down might be troublesome when you are hosting visitors; you might also run into errands as the vertical building down you has of the namely neighbors!
7. How Can An Expensive And Luxurious Lifestyle Be Troublesome?
Penthouses in Qatar are quite a heavy real estate investment; they offer luxurious living. These luxury places cost a lot more than the average apartments, and it is justified as it offers the luxury and grandeur that cheaper apartments lack. However, one thing lacks, pollution; as the penthouses are high, they acquire a lot of dusty winds, which creates pollution, and the maintenance cost of cleanliness is much higher than the cheaper apartments.
Conclusion
Penthouses are a dream place for everyone to dwell; it's a luxurious living and a heavy investment. You must review these things before making a final choice, depending on your lifestyle preferences. Saakin real estate directory is effectively established in Qatar to help you find the apartment of your dreams. You can check out the properties in Qatar that are suitable for you at;
FAQs
Is Buying A Penthouse Or Yacht The Worst Investment?
No, infection is a classic investment as the rates are ever-increasing because they are also a status symbol.
Is the Penthouse Demand Increasing In Qatar?
Yes, Qatar is developing rapidly, and the new buildings all comprise penthouses.
Why Shouldn't You Buy Penthouses?
Ans. Penthouses might not be the ideal choice if you plan to live, but it's good for a holiday and a luxurious lifestyle.



Read Also: 

Things to Consider Before Buying a Villa in Qatar!