One of the most advanced Arab republics is Qatar, which the UN has identified as having a high level of human development. From kindergarten through high school, all citizens of Qatar are required to attend public education.
Qatar's capital, Doha, is home to a multicultural Expat population. Many nurseries and pre-schools follow the common educational principles in their country. Numerous French and British nurseries use the Montessori, EYES, and other curricula, although they are expensive.
How can one choose the best nursery while staying within their budget? A competent nursery, daycare, or preschool can provide your child with a fantastic start in life. We will help you find your children's best yet cheap daycare centers in Doha.
Here Are The Best Nurseries In Doha, Qatar:
1. Tots Corner Nursery
Tots Corner Nursery takes pride in becoming a child's second home. Children can thrive in this setting because it is safe, secure, engaging, and enjoyable. Tots Corner recognizes that the crucial years for all aspects of learning and development are from birth to age eight.
Children are given the time and room they need in a calm setting to watch, explore, and investigate. Each of their teachers monitors each child to help them and their unique requirements. They are all qualified in childcare and have appropriate expertise.
They welcome registrations all year long and accept kids ages 1-4. You are welcome to visit us at any time for a tour or to get in touch together for additional details. They adhere to the Montessori Method and principles, enabling kids to become self-sufficient learners and instilling a lifelong love of learning.
Children's independence, focus, and motor skills are developed using concrete materials. It is crucial in the early years for children to learn through practical applications and experience. For the older kids, they also provide all-inclusive Arabic, French, and German language programs.
Location: Al Mamoura Area

Grades or Year Groups: 1 Year to 4 Years

Tel: +97444688008

Timings: Sun to Thu | 6:00 AM to 4:00 PM

Annual Fees: QAR 2,000 – QAR 16,000

Gender: Mixed
2. Blossom Nursery
Blossom Nursery is a special nursery for children to provide a safe, encouraging, and enjoyable setting. The children are allowed to express their individuality with an emphasis on "learning through play" to give them a successful and happy start to their education.
And lay the basis they will require in the future. It values and respects the linguistic, cultural, and religious variety found in the larger community and strives to prepare all of the students for life in a multicultural society.
To develop each child's unique personality and potential, they are happy to offer high-quality, creative, and challenging learning within a safe, caring, and inclusive environment.
They provide to learn within the framework of a high-standard curriculum. They help to foster the child's physical, mental, emotional, and social development in a setting that is comfortable, secure, and joyful for kids.
Address: zone no.70, Mestah Leabaib street no. 611 building no. 22

Grades or Year Groups: –

Tel: +9746667 8949

Timings: Sun to Thu | 6:00 AM to 4:00 PM

Annual Fees: QAR 27,550 – 36,100

Gender: Mixed
3. Calgary International Pre-School
A kid's learning, health, and well-being come first in this wonderful nursery's learning environment. The team at CIPS is highly skilled, well-trained, and equipped to cope with children from various ethical and social situations. They place a strong emphasis on recycling and taking care of the environment.
Early education and care will work to produce children who can make positive changes to their town and the surrounding world. They expand their success from parent and teacher involvement in a supportive, confidence-building environment.
Kids instinctively investigate and support environmental concerns. By focusing on and training the kids to be more responsible, the curriculum uses this natural tendency to its advantage.
Location: Al Waab

Grades or Year Groups: –

Tel: +97455823005

Timings: Sun to Thu | 6:00 AM to 4:00 PM

Annual Fees: QAR 27,550 – 36,100

Gender: Mixed
4. Kanga's Pouch Nursery
The Best Kanga's Pouch Nursery is your child's tiny bit of home away from home. In this environment, education and fun go hand in hand. A place where kids accomplish great things and are respected for who they are as individuals.
In our opinion, children should constantly feel SAFE and LOVED, often SMILING, ALWAYS Notable, and never miss the chance to DEVELOP to their most significant potential.
Their goal is to offer a lovely, supportive learning atmosphere where your kid can mature and flourish. They provide a welcoming environment where the kids are joyful, engaged, and talkative, safety is important, and all qualified staff is valued, calm, and pleasant. We try to instill in the kids a sense of good manners, teamwork, and empathy for other people's feelings.
Location: Hazm Al Markhiya

Grades or Year Groups: 2 Months to 4 Years

Tel: +9747788 6171

Timings: Sun to Thu | 6:00 AM to 4:00 PM

Annual Fees: –

Gender: Mixed



Read Also: 

What are The Highest-Paying Jobs in Qatar?
5. Petits Pas Nursery
The West Bay, Qatar-based Petits Pas Nursery, established in April 2008, accepts children from 3 months to 4 years old. The team is dedicated to providing your child with a happy, creative environment that is carefully created to meet high standards of safety, comfort, fulfillment, and enjoyment for all kids.
Every child is a King at Petits Pas Nursery! It's more than just growing up here! It involves having fun, dreaming, loving, respecting, learning, sharing, relying on oneself, creating, learning, and exploring.
Its lovely, airy, bright, and green spaces allow your child to engage with the natural elements. As soon as you walk through the doors of our childhood kingdom, you will notice the welcoming, healthy, and appealing atmosphere.
They apply the educational program, which supports your child's distinctive and innovative early learning. While considering their physiological, psychological, and emotional needs, heart-to-heart with the professional and experienced team.
Address: Al Mabahej, Street, Doha

Grades or Year Groups: 3 Months to 4 Years

Tel: +9744483 4250

Timings: Sun to Thu | 6:00 AM to 4:00 PM

Annual Fees: –

Gender: Mixed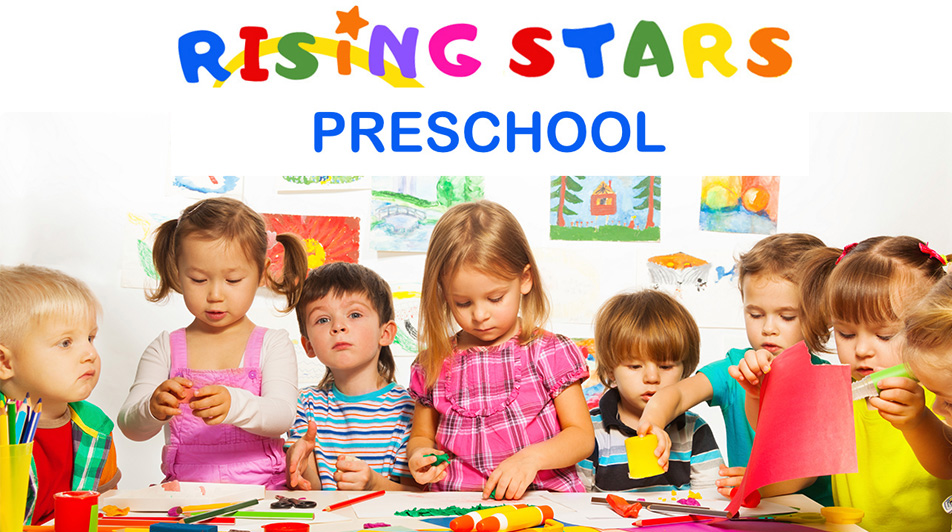 6. Rising Stars Kindergarten
For kids aged three to five, Rising Stars Kindergarten nursery opened its doors in September 2007. They assist your child in acquiring the abilities required to enroll in a full-time program of study. They run out of a facility that was constructed specifically with kids in mind.
All of the class leaders are fluent in spoken and written English and have prior experience teaching young children. Rising Stars is proud of its reputation for offering the best daycare possible in a kind, loving, and educational setting.
Location: Old Airport Area

Grades or Year Groups: 3 Years to 5 years

Tel: +9744673069

Timings: Sun to Thu | 6:00 AM to 4:00 PM

Annual Fees: –

Gender: Mixed
7. Woodberry Nursery
Doha's Woodberry Nursery is a cutting-edge daycare center with a mission to offer children aged 1 to 4 years old a program that complies with EYFS standards. It attends to all of their developmental needs, including their emotional and social needs and physical and intellectual needs.
Classrooms are designed to provide areas for both individualized and collaborative learning. An innovative indoor setting gives kids the advantage of imaginative outdoor learning experiences tailored to Doha's sometimes severe climate.
Location: Ar-Rayyan

Grades or Year Groups: 1 Year to 4 Years

Tel: +97440383830

Timings: Sun to Thu | 6:00 AM to 4:00 PM

Annual Fees: –

Gender: Mixed
8. Acorn Nursery
Acorn Nursery is an English-speaking, British-managed international nursery school following the English National Early Years Foundation Stage Curriculum (EYFS). Incorporating best practices from around the globe, including the local Arabic language and culture, enhances this. Every youngster is unique and given particular attention.
The staff creates a learning curriculum specific to each child's learning and developmental needs. An experienced and fully trained British Lead Teacher with recent experience running a nursery in the UK oversees the curriculum. She has an in-depth understanding of current UK best practices and the EYFS.
Location: Ain Khalid, Doha

Grades or Year Groups: 2 Months to 4 Years

Tel: +97440383830

Timings: Sun to Thu | 7:00 AM to 4:00 PM

Annual Fees: QAR 24,800 – 29,600

Gender: Mixed
9. Al Khuloud Nursery
Al Khuloud Nursery is one of the tops and best nurseries in Doha, Qatar. Our Nursery, formerly known as Don Bosco, was founded in 1987 as a modest daycare facility with three children by Mrs. Maria Fernandes.
More than a hundred students from all nationalities and origins attend the same Nursery today, which goes by Al- Khuloud. They aim to give your kid a safe, supportive, and educational childcare experience to lay the groundwork for success throughout their entire life.
Location: Al Gharafa, Doha

Grades or Year Groups: 2 Years to 4 Years

Tel: +97444865405

Al Khuloud Nursery Visit Website

Timings: Sun to Thu | 7:00 AM to 4:00 PM

Annual Fees: –

Gender: Mixed
10. Gulf English Nursery
This Nursery has two classrooms and may house up to fifteen kids at once. Toys, games, and educational materials from Europe have been imported for all the sessions. Every class has an emergency exit to the gated outdoor area located on the ground floor.
The Nursery has a library, and kids can check out a book for the weekend if they bring in a blue GEN book bag (available for purchase at the uniform shop).
The Nursery, Preschool, and Reception programs at The Gulf English School all adhere to the Early Years Curriculum 2012 for England and Wales. The Nursery Foyer features photographs and captions showcasing the children's development with the Learning Objectives for each term. Once per term, a written report describing the student's development is given to the parents.
Location: 6 Al Gharrafa St, Ar-Rayyan

Grades or Year Groups: 2 Years to 4 Years

Tel: +974 44578777

Timings: Sun to Thu | 55:45 AM to 2:45 PM

Annual Fees: –

Gender:



Read More: 

Top 10 Best Schools in Qatar