Most nations are welcome to go to Qatar, although varied entry criteria depend on where you are from. Qatar has created two distinct health and safety measures for visitors arriving in Qatar: Standard Health Measures and Red Health Measures. These measures are based on Covid-19 epidemiology in various countries and their local health risk signs. The following Qatar travel and return policy became effective on March 16, 2022.
Red Health Measures apply to arrivals from all categories from seven countries, including Bangladesh, Egypt, India, Nepal, Pakistan, Philippines, and Sri Lanka.
Is Qatar Open To International Tourism?
Qatar welcomes visitors from around the world. However, visitors from states subject to "Red Health Measures" who are not immunized will not be permitted entry into Qatar. In addition, each eligible traveler to Qatar must follow specific requirements that vary depending on their country of origin.
Immunity Status:
Immune-Vaccinated:
Anyone who has received the COVID-19 vaccine and has had their immunity certified by the Ministry of Public Health.
Immune-Recovered:
Anyone who had a confirmed COVID-19 infection, locally or overseas, is thought to have immunity for twelve (12) months after the infection. As proof of the prior infection, there should be an official and verified laboratory test result.
Non-immune/Unvaccinated:
Anyone who does not have any of the above criteria.
General Travel and Return Policy in Qatar
Qatar has created special health and safety standards for visitors traveling to Qatar. It is known as Standard Health Measures and Red Health Measures, based on COVID-19 epidemiology in various countries and their local health risk indicators.

Citizens and residents can leave the country whenever they want as long as they return to Qatar under the Travel and Return Policy.

The COVID-19 health standards in the destination country should be examined and complied with, as the Ministry of Public Health advises citizens and residents.

Before making travel plans to Qatar, travelers are responsible for staying updated on any changes to the Travel and Return Policy through official channels.

To stop the spread of COVID-19, travelers must always abide by Qatar's COVID-19 policies.

Before entering Qatar, travelers who are required to have a PCR lab result must obtain it at a medical facility that the health authorities have approved in the country of origin. It is necessary to receive a negative test result no later than 48 hours before the scheduled departure from the country of origin.

Children under 12 who are not immunized and traveling with immune or recovered parents must abide by the same regulations.

Within 24 hours of arriving in Qatar, citizens and residents must visit any public or private clinic and have their parents sign an undertaking form.

GCC Citizens (non-residents) and Visitors: Testing for children will take place at the port of entry (airport, land, or sea) upon arrival in Qatar if the parent(s) are exempt from quarantine; if the parent(s) are subject to hotel quarantine, testing will take place at the quarantine hotel.

Documentation requirements for non-residents of Qatar, including immunized (i.e., having gotten a third COVID-19 shot or a second dosage during the previous nine months) and recovered (within the last 12 months).

GCC nationals and residents who meet the immunity requirements may also use an international SIM card to download the Ehteraz mobile application (App).

If they meet the requirements for immunity, COVPass health apps for EU citizens and residents will be accepted in Qatar in place of online registration.

All fully immunized travelers who possess one of the above health cards are excluded from online registration. They must visit one of the authorized private clinics for a Rapid Antigen Test within 24 hours of their arrival in Qatar.

Both immune and non-immune travelers departing from the nations covered by the Red Health Measures must have a pre-travel RT-PCR test.

The pre-travel registration portal requires non-immune travelers to register and submit their pre-travel PCR results.

Non-residents of Qatar who are non-immune/unvaccinated must register via the pre-travel registration system for visitors entering the State of Qatar on the website

www.ehteraz.gov.qa

They need to upload all pertinent official documents, such as vaccination records, proof of prior COVID-19 infection, serology antibody test results (for conditional vaccines), and PCR lab results.

At least three days before, Travelers have a pre-travel PCR test. They must submit the original copy of the PCR test result to the airlines to be allowed to board the plane. Even though doing so is not necessary during the electronic pre-registration procedure (land and sea).

Although pre-travel registration is still optional for Qatari nationals and residents. The Ministry of Public Health advises that everyone entering the country do so to ensure the best possible experience once they arrive. Especially those traveling with unvaccinated family members must complete a home quarantine and sign an Undertaking that is easily accessible in the Ehteraz online registration.

Upon entry into Qatar via air, land, or seaports, travelers are subject to random COVID-19 testing (also known as a PCR or Rapid Antigen Test).

The Ehteraz mobile application must be downloaded and activated on mobile devices utilizing a local or foreign SIM card.

Before traveling to Qatar, each traveler must complete an Undertaking and Acknowledgement Form. The form is accessible on the Ministry of Public Health websites, www.ehteraz.gov.qa, and the airline's online reservation system. Citizens and residents who arrive from one of the nations to which the Standard Health Measures apply are exempt from this requirement if they are immunized inside the State of Qatar.

Rapid Antigen self-testing is not appropriate for travelers. Rapid Antigen Testing must be at an accredited healthcare facility post-travel or upon arrival.

To qualify for home quarantine, the place must meet the requirements outlined in the undertaking. If he has no property, the traveler must reserve a hotel quarantine package on Discover Qatar's website before arriving in Qatar.

If there are any COVID-19-related symptoms, visitors arriving in Qatar should visit the COVID-19 test clinic at the entry port and take the appropriate isolation precautions.

Travelers should avoid socializing or going to work until the Rapid Antigen Test results are available.

Tourists who haven't had their vaccinations will get a yellow health status in the Ehteraz app.

Travelers should frequently consult the MoPH Travel and Return Policy for the most recent, thorough advice based on the classification of the nation and health and safety measures.

Mekhaines' quarantine period for non-immune/unvaccinated individuals shall continue at 7 days.



Read Also: 

How to Get a COVID-19 Vaccination Certificate in Qatar
​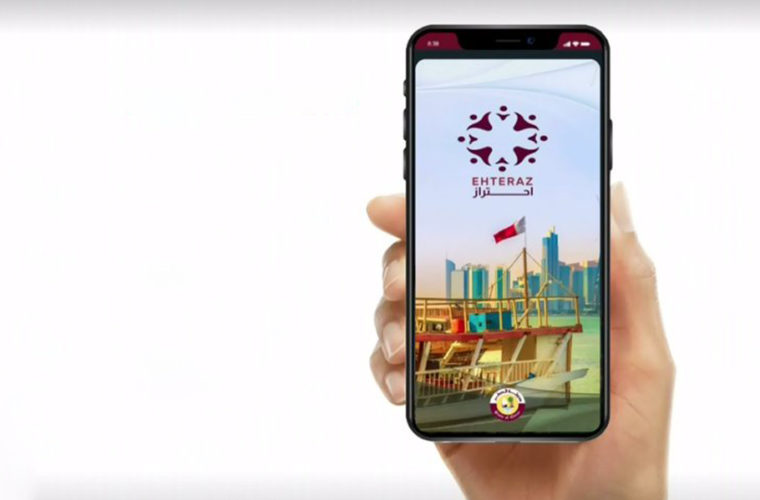 What is Ehteraz Mobile Application Policy?
When landing at Qatar's entry ports, travelers must download and activate the Ehteraz app on their mobile devices. The traveler needs the following to do that:
Arrange an International SIM card or a SIM card from one of Qatar's service providers, such as

Vodafone

or Ooredoo.

Mobile internet access.

The smartphone should be compatible with iOS 13.5 and later versions or Android 6 and newer.

Install the app on your mobile using Google Play or any online search engine.

Suppose the traveler does not already have a SIM card or smartphone. In that case, they can buy one at the Hamad International Airport at the Abu Samra border crossing.
Hotel Quarantine Facility for Travelers
Travelers required to conduct quarantine in a hotel quarantine facility must book a Welcome-Home quarantine package through Discover Qatar's website
https://www.discoverqatar.qa/welcome-home/.
COVID-19 Tests cost:
​​​PCR Test: QR 160
Rapid Antigen: QR 50
​Serology Antibody Test: QR 50
FAQ
How do I apply for a Travel Authorization to enter the State of Qatar?
At least 12 hours before departure, all Qatar visitors must register on the Ehteraz website (www.ehteraz.gov.qa) and upload the necessary government documents. They will receive a Travel Authorization, which they must provide to the boarding personnel or the immigration officers at the land border to be permitted to board a flight to Qatar.
How long must I undergo quarantine on my arrival in Qatar?

​
The following quarantine guidelines will apply to residents and visitors who are not immunized:
5-day home quarantine if coming from a nation on the Green List.

Hotel quarantine for 7 days if traveling from a country on the yellow list.

If coming from the Red List, a 10-day hotel quarantine is required.
Will my Ehteraz Status Change When I Return from Travel?
Yes. When you return to Doha, you must download the Ehteraz app to your phone. Within a few hours of your arrival on Ehteraz, if you are needed to be a quarantine, your health status will change to Yellow, designating that you are under quarantine.
Do I have to Test for COVID-19 on Arrival in Qatar?
All visitors arriving from Red Countries must submit a repeat RT PCR test (at their own expense). If the test is positive, they must have a quarantine procedure.
Can I travel if I have already had a Positive Test for COVID-19?
Residents who have recovered from a prior COVID-19 infection in Qatar during the previous (12) months are exempt from quarantine. Upon their return from their international travel, their PCR test result was negative.

Read More: 

How to Apply For a Qatar Tourist Visa