Your home is your safe place; nothing beats getting home to something uniquely yours.
Are You Looking For Used Furniture For Sale in Qatar?
Furniture is the most important aspect of what makes a house a home. You find second-hand furniture and affordable furniture in the best Used Furniture market in Qatar. Recycling and upcycling are prevalent in today's society.
Climate change is real, and we are in the midst of it. Why buy new when you can buy "pre-loved" items for a fraction of the cost and, as a bonus, keep them out of dumps and save some real cash?
Look no further if you're seeking used furniture in Qatar. Here are some of our favorite places to get high-quality used furniture that deserves a second chance! You can even get used office furniture for sale in Qatar.
Buying Used Furniture in Qatar in 2022
The Best Used Furniture Markets
Najma Used Furniture Market
Najma Used Furniture Market is a well-known Doha-based second-hand furniture retailer. They buy and sell all types of domestic and business furniture, as well as curtains and chairs. Their pieces are reasonable. All of their furniture is guaranteed to be in excellent condition. This marketplace has the best-used home furniture for sale.
Mattresses and bed sets are in fine condition and well worth the money, and you can choose from a variety of styles.
Qatar Living
Qatar Living is a buying and selling website for used furniture based in Doha, Qatar's capital. This website offers a wide range of products and services and a classified area with a choice of used furniture.
Each category includes thorough information on the article's condition, year of purchase, original manufacture date, and the seller's contact details, such as email, phone, and WhatsApp.
Qatar Living Contact Information
Address: D-Ring Road, Villa 333, Street 250, Zone 43 Doha, Doha
OLX Online Buy and Sell Used Furniture
Olx is one of the most popular websites for buying and selling furniture. You can effortlessly browse their collections by entertaining your present location and browsing through all the purchase possibilities around you, which is convenient and hassle-free.
Their extensive classified advertising includes prices, descriptions, and detailed information on the item's condition. All contact information and processes are detailed to ensure a smooth and hassle-free shopping experience.
Olx Contact Information

Read Also: 

What You Need To Know Before Relocating in Qatar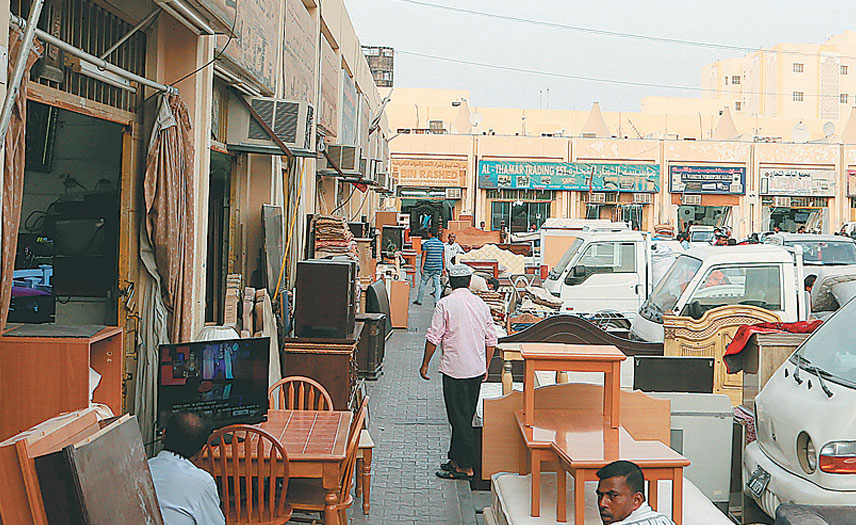 Used Furniture Buy Sell Qatar
Buy and sell used furniture Qatar is an online marketplace specializing in buying and selling old furniture in Qatar. Its website offers a user-friendly interface that displays the best deals, organized into parts and categories like best sellers, best furnishings, products, and electronics.
When you choose a catalog, it will show you a list of available furniture, along with a detailed description that includes the manufacturer, age, and price.
You can also buy many furniture pieces by putting them in your cart. You can get them by placing an order for them all at once. This shop is worth visiting because of its large selection of high-quality furniture reasonably priced.
Contact Information
Qezar
Qezar is a marketplace for unwanted goods. You may easily find the one you want among the many classified ads by visiting the furniture website. The furniture area requires you to enter your location, price, and specifics about what you're searching for. Each product listing includes the piece's age, condition, general information, and the seller's contact information, such as email and phone.
Qezer Contact Information
Qatar Buy and Sell
Qatar Buy and Sell is a website that has thousands of used things for sale. You can browse thousands of used things ranging from bikes and cars to electronics, fashion, and other items that could be a hidden gem for you.
The ads are listed in the classifieds area so that you can see the availability, market demand, price, condition, and description, all of which are displayed in point-form. You search for things by location, budget, and category, add each item to your wishlist, and communicate with each seller individually.
Qatar Buy and Sell Contact Information
Friday Market
Friday Market is a popularly used furniture website with a large selection of all types of home and business furniture. All of their items are described in detail on the site, including the seller's name, price, location, description, and contact information.
Friday Market Contact Information
Doha Packers & Movers
Doha Packers and Movers is one of the country's most reputable packaging and moving firms. They not only offer different services such as house and office relocation, but they also buy and sell used furniture.
Visit their website or contact customer service staff for additional information about their services. Depending on the quality and age of your used furniture, they may also offer you a good price.
Address: Doha, Qatar

Phone Number: +97430300215,. +97431415100

Email:

Support@dohamoversandpackers.com
Al Amana Movers and Packers
Al Amana Mover and Packers is a moving firm that also offers services for buying and selling old furniture. Their well-trained team knows how to offer high-quality used items in outstanding condition that are sold at reasonable costs.
Al Amana is a reputable firm in Qatar that provides a wide range of furniture, from classic and timeless pieces to sleek and modern IKEA-style items. For their used furniture, they have a physical store and a website, all of which are sold at reduced prices to meet any budget.
Al Amana Movers and Packers Contact Information
Conclusion
An outdated piece of furniture could become the new focal point of your living room or bedroom. We hope you will benefit from the best Used Furniture market in Qatar.
Recycled and used items are not only good for the environment, but they are also better for your pocketbook, so spend some time perusing resale sites. You never know. You might find the ideal addition to your home for a fraction of the cost!



Read More: 

Best and the Cheapest Supermarkets in Qatar