Commercial real estate CRE has enough potential to provide good income to investors and brokers. You can benefit from this guide to commercial investing if you are new to the real estate business. Here, you will learn and know the key points to investing in Qatar's commercial real estate.
Real Estate Market Trend of Qatar
Qatar's economy is growing fast with the growth of commercial real estate. The increasing construction projects are speeding up the property market flow. The government of Qatar is raising the real estate sector with various policies. The development phases include high-end residential towers, luxury hotels, white-collar office spaces, and shopping malls.
Moreover, the 2022 FIFA World Cup event increases the interest of foreigners and investors. There is growth in retail space, and expected to grow more.
The government has introduced foreign ownership laws that have benefited the real estate market. Thus free ownership includes shops, offices, compounds, and residential villas legally.
The Qatar real estate market sees innovative public-private partnerships and drives more companies to participate in the real estate market. Therefore, there is a massive attraction for investors to invest in the commercial real estate of Qatar.
Types of Commercial Properties
Commercial real estate has many types of commercial properties. However, there are five main categories of commercial properties.
-. Multifamily that includes apartments and other residential units, office spaces, and commercial buildings

-. Retail spaces include malls, strip malls, or single retail spaces.

-. Industrial that includes data centers, warehouses, and self-storage manufacturing buildings.

-. Special purposes include hotels, lodging, healthcare, daycares, etc.

-. The investors use CRE for cash flow. The residential rental property provides massive income from leasing the unit to tenants.
Why Do You Invest in (CRE) Commercial Real Estate?
You can invest in commercial real estate with multiple streams of income. When you own a multi-unit commercial property, you get additional income sources. It is a more stable and secure investment. The investors have enough potential to earn a higher income with commercial real estate.
It all depends on the state of the property, location, and other features. Generally, you earn thousands of riyals of dollars of cash flow annually through investing in commercial real estate.
Generally, an investment in commercial real estate entails an investment amount that is a large sum for any single retail investor to provide. Moreover, the most common ways of investing in commercial real estate (CRE) are via real estate investment trusts (REITs) or through fractional ownership.
This investment mode reduces the entry burden into CRE for retail investors by cutting down the ticket size. However, a reduced ticket size does not necessarily mean an investment option is good.
CRE investment comes with specific benefits over other traditional investment options:
-. Real estate protects from market upheavals. As a long-term investment possibility, it is stable and usually has a consistent rate of return.

-. It comes with a lock-in period that protects your investment while assuring returns.

-. Any special purpose CRE in a key location can be a literal gold mine. It will be well sought after by a niche segment of tenants, thus assuring that a renewal of the investment keeps giving returns as a passive income.
Passive Commercial Real Estate Investment
In this condition, the investor does not actively manage the property. Passive investment generates earnings and incomes in a preferred return, dividend, combination, and equity split. There are different passive commercial real estate investment types, and you can benefit from these sources.
-. Real estate investment trusts

-. Real estate exchange-traded fund

-. Crowdfunding

-. Become an equity or funding partner
Read Also: 

The Things To Consider When First Time Buying A Home In Qatar
Active Commercial Real Estate Investment
Commercial real estate investment
The investor manages the investment in commercial active real estate investment by himself. Active investment generally produces a higher return than passive investing. You can get active investment earnings through,
-. Cash flow from rental income

-. Adding value to the property and appreciation

-. Property transactions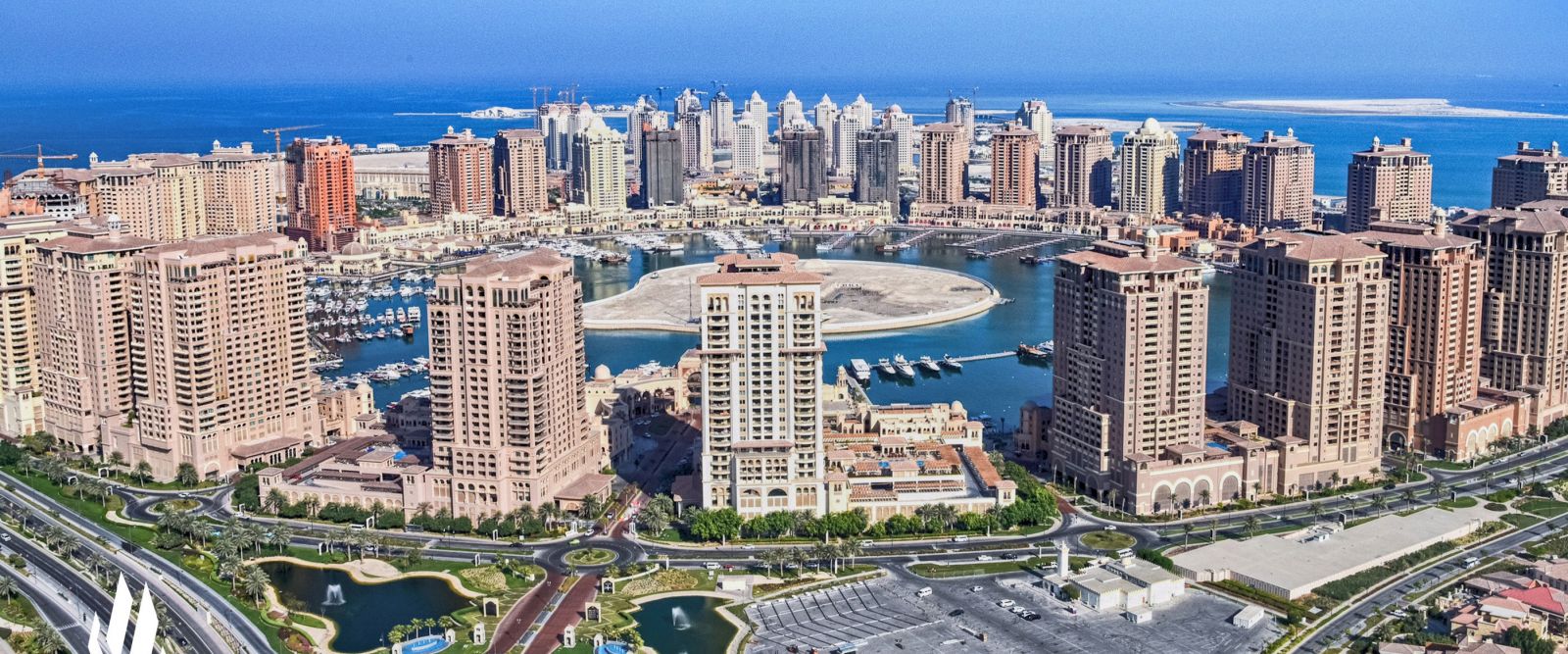 How to Manage and Buy a Commercial Real Estate Property by Yourself?
-. You can handle your commercial real estate investment by selling and purchasing different commercial properties.

-. You may have funding partners and investors.

-. When you think about success or failure in this venture, you are responsible for it.

-. You have to be aware of the demands and supplies for the commercial real estate types in the local market.

-. You have to get involved in active commercial real estate investing.

-. You can evaluate the investment opportunities by yourself to get most of the benefits.

-. You can also get benefits from conventional and government loans. Commercial real estate has an inspection period same as residential real estate.

-. As a buyer, you can conduct inspections to evaluate the market value of active property and location.
Key Market Trends to Encourage Real Estate Investment
Some of Qatar's key market trends encourage investment in commercial real estate.
-. Demands for offices in Qatar are growing.

-. Increasing visitors is boosting the hospitality sector.

-. The Qatar commercial real estate market is a competitive landscape, and the sales ratio of commercial real estate is consistently growing through the online market.

-. The recent development of Qatar is also a big reason to boost commercial real estate investment.

-. Government initiatives are supporting buying trends.

-. The real estate market of Qatar is very dynamic, and it is consistently creating a portion for investors and foreigners.
The Real Estate Buying Trend
The buying trend and commercial administrator is increasing rapidly. There are the following category for buying properties,
-. Retail

-. Offices

-. Logistics

-. Industrial

-. Multifamily

-. Hospitality
Find Commercial Properties for Investing on the Saakin Qatar Website
If you want to invest in (CRE) commercial real estate in Qatar, you can find different commercial properties for sale and rent on real estate directories. Saakin Qatar is Qatar's top real estate directory that provides quick access to commercial properties. On this portal, you find featured properties listed.
Conclusion
If you have some capital and money to start your business, you can successfully start your real estate business. It is the best way to get income through commercial real estate investment. Property transactions in the current valuable market give you profit. Rental income is a big source of earning, and you can utilize it by investing in residential units.
Qatar has a lot of options to offer for investing in real estate. You can start your business today. It gives you a higher margin, so you will never be disappointed by this investment venture.
Read More: 

What Is The Future Outlook For Real Estate In Qatar?