Are you moving with Pets to Qatar?
Expats who have decided to relocate to Qatar have many things to consider required for travel and entry into the country. The Expats who have pets will have more concerns about relocating their pets to Qatar. It will need to face weather and space or habitat. The relocation services are available for importing pets into Qatar. Here's a guide for Expats who are moving with pets in Qatar.
Qatar Airways Policy When you are Moving with Pets in Qatar
Pets must enter Qatar via Hamad International Airport in Doha. Pets can also enter as checked baggage or air cargo. You will need a pet box if you move with pets in Qatar. Only one dog or cat is allowed per adult per year entering Qatar. Qatar Airways takes tame dogs, cats, and birds as checked baggage, either on your flight or separately, under international air travel regulations.
The Pearl-Qatar is a pet-friendly zone. Qatar Airways allows you to bring one falcon in the economy class cabin of an aircraft. Still, no pet dogs or cats are permitted in the cabin.
Which Vaccinations & Import Permission do Your Pets Need?
The ministry of the municipality and environment department of animals supervises the transport of pets and issues import permits. You can get the permit from the department of animal resources.
What Documents are Needed for Pets to Travel?
Documents required for this process include:
A copy of your ID or passport

Health certificate of your pet

Current vaccination records and rabies certificate of your pet

Cats must receive calicivirus, panleukopenia, and rhinotracheitis vaccinations

Dogs must be vaccinated for hepatitis, distemper, parainfluenza, leptospirosis, and parvovirus.

Vaccinations at least a month before travel.

Microchip details, such as date, number, and location



Read Also: 

The Best Beaches in Qatar
Some Breeds of Pets are Banned in Qatar
Certain breeds of pets cannot be imported into Qatar. These have the following dog breeds:
American Staffordshire Terrier

Boerboel

Boston Terrier

Boxer

Bull Terrier

Bulldog

Chinese Shar-Pei

Doberman

Great Dane

Japanese Akita

Neapolitan Mastiff

Afghan hound

Rottweiler

Staffordshire bull terrier
There are no restricted cat breeds in Qatar. However, most airlines do not transport snub-nosed pets such as Persian cats. It is good to confirm the breed of your cat or dog with your vet and check with the airline before moving with pets to Qatar.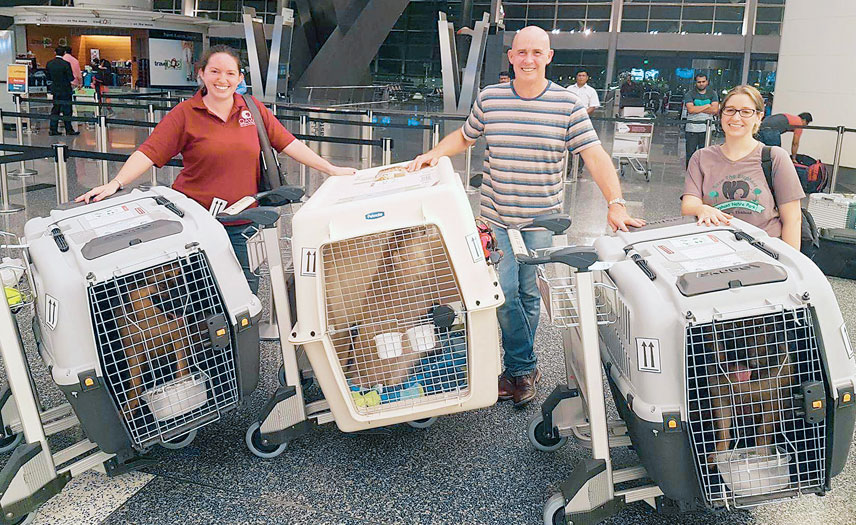 Traveling With Your Pets to Qatar
All pets coming to Qatar must enter through Doha's Hamad International Airport. Your pet can travel with you as a suitcase or as cargo. At the Hamad International airport, you must check in your pet at the baggage check-in area and pay the fees for extra baggage. Your pet will not travel alongside you but as an unaccompanied shipment as cargo.
You do not need to check in your pet. Instead, your pet will be checked in at the airport's cargo terminal some hours before departure. The airline will take care of your pet from here on. Manage all the relevant documents and stick to the security procedures.
Arriving of your Pets in Qatar
Once your pet arrives in Qatar, the airline staff, such as Qatar Airways, will allow them out of their boxes to walk. Pets are checked for any disease or stress. The staff will provide food and water to your pet. A health review is done to examine the health of your pet. If they find any health issues, you may have to pay for veterinary treatment.
Service Dogs
Expats traveling with a service dog should check with their airline. What are the requirements and documents? Traveling with Qatar Airways, must inform the airline at least two days before departure and check in an hour earlier than the normal time. They also demand you prove that your dog will not create a problem during the flight.
How to Keep Your Pets in Qatar?
Qatar has a licensing system for cats and dogs. Moving to Qatar with a dog has a specific procedure. Only Salukis and Persian greyhounds are common among local people. Still, they are managed as hunting dogs rather than pets. Dog owners must know that they cannot walk their dogs everywhere. Some beaches allow dogs.
While exploring your move to Qatar with your pet, it is good to check with your landlord whether your apartment or building allows pets. You can take the help of the pet relocation services in Qatar. Qatar prompts pet owners to ID their pets with tags and microchips. The microchipped cats qualify for a free trap-neuter-return program by the animal resources department.
Moving to Qatar with Pets
Expats who plan to move the country and their pets must remember that animals must have their documents to go. Qatar sets out specific requirements for pets moving to the country. When you follow these rules, the pet receives an entry letter. If this is not already done, these requirements also need to have your pet microchipped. Your pet must also be vaccinated promptly.
Conclusion
It will help if you find out the rules and regulations regarding bringing pets into Qatar. Some countries define that pets must experience a rabies test. If traveling to any such country, your pet must be microchipped before. However, some countries do not require pets to undergo a rabies test. They also do not keep pets in quarantine when they arrive in the country. When you move with pets to Qatar, you must follow the laws and regulations to bring your pet into Qatar.



Read More: 

Best Parks and outdoor Playgrounds in Qatar