The history of Qatar is evident almost wherever you turn, from the UNESCO World Heritage sites and marketplaces to the architecture and museums. But as proven by the cutting-edge towers in Doha, it is not a nation stuck in the past. It has a high-income industry supported by the world's third-largest natural gas and oil reserves. The beauty of its culture and towers makes it a center of attraction. Discover Qatar with Saakin.
It's rare to find a similar fusion of heritage and contemporary anywhere else in the globe than in the country. Qatar honors its past while also providing visitors and new residents with modern amenities, hotels, infrastructure, and a blend of many international cultures, foods, and lifestyles. Here is a quick guide to get the most out of your trip to Qatar. Please read this blog post to get the awareness of the best tourist attractions of Qatar.
Why do People Love to Travel and Discover Qatar?
Travel to Qatar is perfectly secure. It has low crime rates, particularly violent crimes against foreigners, which are relatively uncommon. Crime, Violence is rare, and there is a low crime rate. However, there is credit card fraud. Maintain the security of your items, including your passport and other travel documents. Travelers can find unique, genuine experiences in Qatar. Here are some tips to assist you more successful in navigating the local way of life and thoroughly appreciate your time in discovering Qatar.
Get Inspired
Visit Qatar for a city break to experience tradition and modernity side by side in a setting anchored in luxury.
Fifa Worldcup Qatar (From 1 November to 31 December 2022)
To ensure that everyone attending the FIFA World Cup Qatar 2022 has the opportunity to engage in a few of the best recreational practices that Qatar offers. We have described a list of Qatar's most popular Trips and Outdoor adventures. To read more information, choose any of the Tours & Excursions. Indeed, you will explore premium tourist destinations in the state of Qatar. The country is offering the best hotel packages and short-term rentals due to the world cup Qatar 2022.
Discover Qatar - the Land of Wonders and Culture
Qatar's art, culture, and desert landscape are all vibrantly alive. For Expats in Qatar, it provides a wide selection of luxury apartments and world-class dining experiences. The abundance of museums in Doha also strikes awe in the eyes of architects and art experts. Qatar is proud of its historical past and cutting-edge wonders. Beautiful beaches, famous marketplaces, and a wide variety of art and culture are all available there.
Together with its surroundings, Doha is growing to become one of the most popular tourist destinations on the planet. Your trip will be a fantastic journey, thanks to several of the most delicate things to do in Doha. Visitors to Qatar can engage in a wide range of great activities that showcase the country's stunning natural surroundings.
When Is The Best Time To Visit Doha, Qatar?
The high season is in the summer (June to September), when temperatures average around 40°C and may go as high as 50°C! Although air conditioning is standard, the spring (March to May) is a terrific time to travel because the weather is a little more pleasant. The mild winters (December to February) average daytime temperatures of about 23°C.
Don't Have Enough Time To Discover Qatar?
Longer transit times are a blessing while passing through Qatar. If your transit lasts eight hours or longer, consider joining a tour of Doha's city center or hiring services to take an adventurous trip in Doha. Consider tours and other activities at Hamad International Airport if your journey time is 3 hours or less.
A guide who speaks English is provided for the excursion. Although English is frequently spoken in Qatar due to many Expats, Arabic is the official language there.
Discover Qatar - A Better and Faster Platform to Get Customized Services
Discover Qatar is the Destination Management Company for Qatar Airways. It aims to establish Qatar as a premium tourist destination and take pride in devising and developing the best adventures. It also has created excellent partnerships to offer a superior and the best picking of tours and excursions, hotel packages, airport services, and transport.
Discover Qatar's qualified tour guides provide outstanding assistance to ensure you get the most out of your excursions. It also offers a 24-hour helpline so visitors can take help whenever needed.
Transit Tours
There's no need to waste time traveling via Qatar at the airport. Suppose your transit lasts eight hours or longer. In that case, you can transform your stop into an extended vacation by taking a city tour of Doha. Arab tradition and modernity coexist, or by going on a desert adventure to see the amazing Inland Sea. We advise using our professional tour, Discover the Art at the airport, for transit lengths of two hours or longer.
To make the most of your transit time and take a break from your travels to explore Qatar, the transit tour guide's services have made this as easy as possible for you. You can discover its distinctive Arabic heritage before connecting to your final destination by taking care of all the arrangements for your transit. Make sure you are back in time for your next flight.
Get the service in the Duty-Free area of Hamad International Airport so that you may check live availability for you if you are less than 48 hours out from landing in Doha. Suppose you are unable to see availability to book a tour. You can find a tour guide on the map.
What Goes Into Holidays That Works
For you, the tourism companies are providing the best travel packages. Those include a luxurious stay at a 4 or 5-star hotel along with selected tours to learn about Doha's exploration, great shopping, or to discover the 18 holes on each of Doha's championship golf courses. You will love the expedition arrangements for tourists and enjoy your holidays.
Airport Meet, Assist, and Transfer Services
Each service comes with exceptional luxury and comfort, ensuring that your trip to, through, and from the airport is absolutely perfect.
Enjoy Shopping in Qatar
Qatar offers a variety of retail alternatives to both residents and visitors. Some great fashion brands are in magnificent malls, notably in Doha. The Mall of Qatar has hundreds of businesses and around 500,000 square meters of retail and leisure area, so you could easily spend an entire day just strolling through it.
The souqs in Qatar offer more conventional retail outlets (marketplaces). Discover regionally produced handicrafts such as weaved baskets, pashmina shawls, and cooking pots for a true taste of Doha. A souq visit might be compared to a treasure hunt because you never know what you'll find there.
The Souq Waqif, constructed on the location of Doha's century-old trading market on the banks of the Wadi Musheireb, looks out of place, especially against the city's striking modernist architecture. The market, with its mud-daubed structures, evokes a former period while continuing to be a center of activity where business and gossip mingle. The narrow lanes of Souq Waqif provide a picture of everyday street life.
Experience Diverse Dining in Qatar
In the desert, meal? Fried rice by the ocean? Sandwiches while admiring the Arabian Gulf, perhaps? That's true. Because Qatar's food scene is expanding and blends flavors from around the world you may find almost any cuisine there.
Although many hotels and resorts have excellent restaurants on-site, you may also find quaint tiny taverns that cheerfully serve authentic Qatari food. Expect dishes with Iranian, Indian, and North African flavors, with a strong emphasis on fresh seafood from the gulf, if you're intent on trying the original cuisine.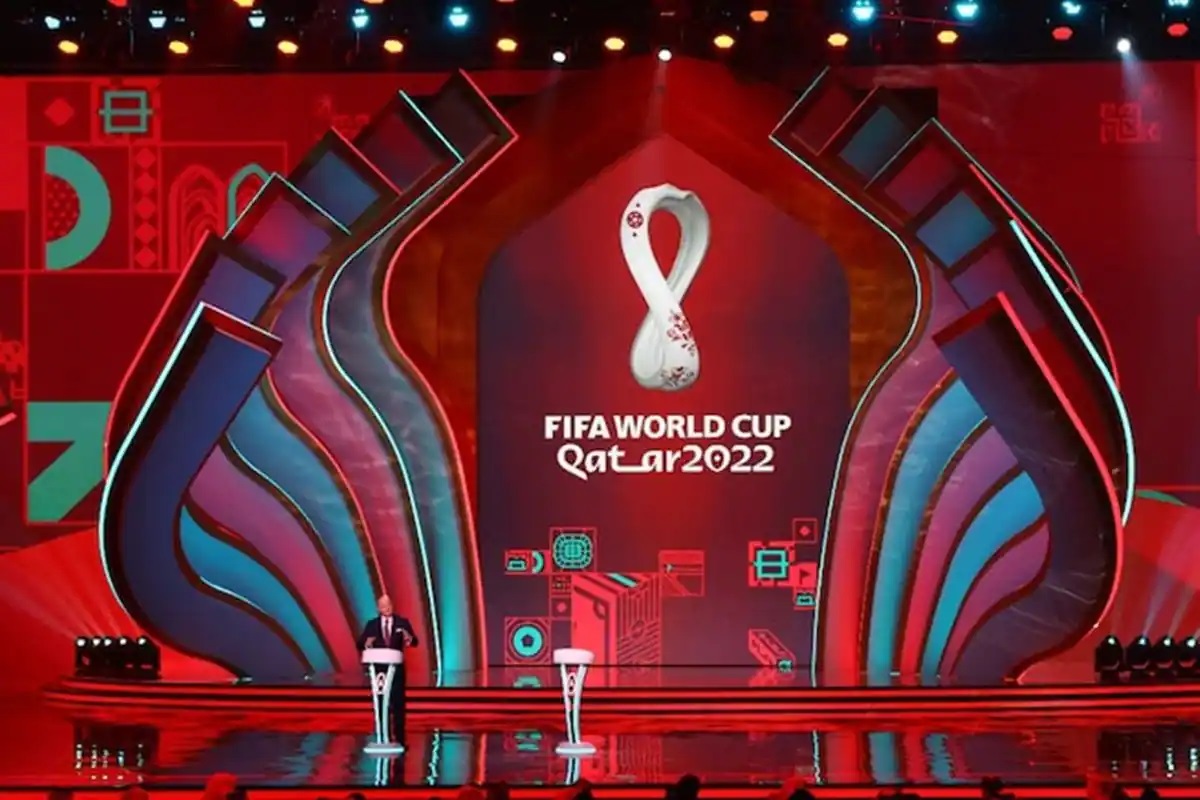 The 2022 FIFA World Cup
All eyes are on Qatar in 2022
The 2022 FIFA Worldcup won't take long for it to arrive. You should start preparations immediately if you want to be in the FIFA World Cup in 2022. This is the first time a nation with a majority of Muslims has hosted an international event. It's also the first to take place in the pleasant winter months of late November and early December, when both players and spectators can enjoy it.
Many brand-new zero-waste and eco-friendly venues created to showcase Qatar's history and culture are in the planning stages. The eastern part of the country is mingled with venues, particularly in Doha, Al-Khor, Lusail, Al-Wakrah, and Al-Rayyan. Travelers who plan to watch matches at several sites will have the possibility to visit several places in and around Qatar.



Read Also: 

How Can I Get Qatar Fifa World Cup Tickets?
Discover Qatar in its Excellent Marvels
Doha is a pioneer in the construction of the best towers. Its structural diversity is astounding. The National Museum of Qatar and the Museum of Islamic Art are two symmetrical wonders located in Doha. IM Pei created both magnificent museums. The heart of the city, West Bay, is home to several beautiful skyscrapers, including some of the most distinctive ones. Look into buildings like the modern, calligraphy-adorned Education City Mosque. The National Library's lecture halls resemble pods, and it has an angular form.
Discover the Pearl's Beauty in Qatar
Around four million square meters of land make up the man-made island of Pearl Qatar. The Arabian Riviera and the pinnacle of luxury, according to legend. The primary pearl diving locations on the north side of Doha Bay are where it gets its name.
The Pearl is a prestigious location. It received many honors, including design and best development prizes. Excellent in both structure and design, The Marina at the Pearl Qatar is recognized for its outstanding architecture. The Pearl attracts investors primarily because of its strong ROI opportunities, ranging from 5 to 7.5 percent on average. As a result, investors are sure that there are a few places in the world with high rentals.
Tourist Attractions in Qatar
Unique Taste of Shopping at Souq Waqif
Souq Waqif is a historical and cultural market and a popular tourist destination in Qatar. It is one of the most well-known traditional folk markets in the area. It features stalls where vendors sell and exhibit a variety of traditional products to customers.
Explore the Katara Cultural Village
The area of the Katara Cultural Village is one million square meters. There are winding streets, historical sites, museums, an atrium, art galleries, and theatres. In addition, the design is based on the traditional Qatari style. This place is excellent for meeting with other travelers for some shisha after sunset. Five to ten minutes in a taxi will get you to Katara Cultural Village, located between West Bay and Pearl Qatar.
At the Villagio Mall - Amazing Shopping Experience
The Villagio Mall, one of Doha's latest shopping centers, is built in a design similar to The Venetian in Las Vegas. The mall offers gondola rides that will transport you to Venice and several cafes and shops that are worth your time and money. Even though it is rather far from other well-known local attractions, the mall is worth seeing if you have some free time. Unless you're a shopping lover who likes to browse every store, you won't need more than half an hour to explore the entire mall.
The View of Doha Bay from the Al-Corniche Is Breathtaking
Al-Corniche, a lengthy seaside walkway, stretches for kilometers. It offers unmatched views of the city, Palm Tree Island, and the Doha skyline. It also moves in a horseshoe pattern from the West Bay to the Museum of Islamic Art. The location is ideal for taking in the view. The sound of waves breaking against the stone walls, surrounded by palm trees. Then there are family-friendly areas where you and your loved ones can safely take in the stunning sights.
The ZUBARAH FORT Excursion
Every visit to Doha must include a stop at the Al Zubarah Fort, a well-known and picturesque desert fort in Qatar. Its name is derived from the archaeological site in Al Zubarah town, which is also a UNESCO World Heritage site. The fort currently houses an intriguing museum. It was one of the most famous pearl trading and diving hubs in the Gulf. It would be best if you don't skip the small exhibition on the fort's ground floor and in the neighborhood.
Travel with Qatar Airways
Due to the excellence of its staff, onboard amenities, and airport service, Qatar Airways has earned the designation of 5-Star Airline. Service ratings are given to both cabin staff and ground staff, and product ratings are given to seats, amenities, food and beverages, IFE, cleanliness, etc. Travel with Qatar Airways to explore the country and avail the best packages offered by Qatar Airways.
As one of the first-ever airlines to receive the 5-Star designation, Qatar Airways continues to lead the world in providing customers with the best possible packages & services. With the help of 5-Star cabin staff service, the amenities, cuisine, and IFE in the cabin are setting or meeting global Best Practices. Qatar Airways is based on the 5-Star hub of Hamad International Airport in Doha.
Best Adventure Sports in Qatar
Qatar's varied scenery and mild climate make it a fantastic location for adventure sports. There are many activities to look forward to during your visit to Qatar. You can experience dangerous sports for adrenaline enthusiasts like rock climbing, skydiving, and dune bashing to relaxing enjoyment like scuba diving and sailing.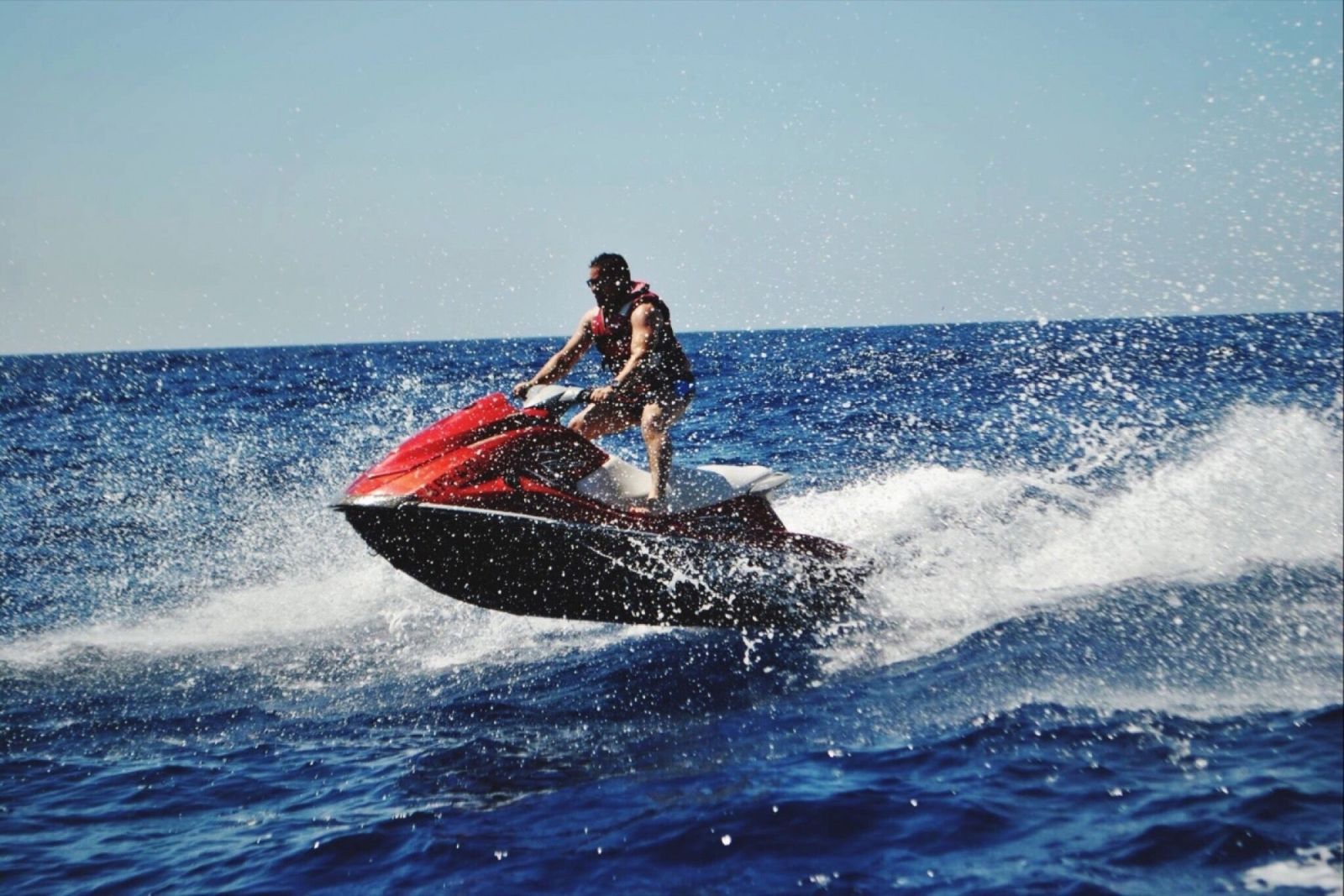 Jet Skiing
You'll be pleased to know that Qatar provides a variety of jet-ski safari experiences if jet skiing is what you're looking for. With a group of other thrill-seekers, you may take in the breathtaking views of locations like Pearl Qatar and the Corniche, or you can choose to travel alone on a jet ski.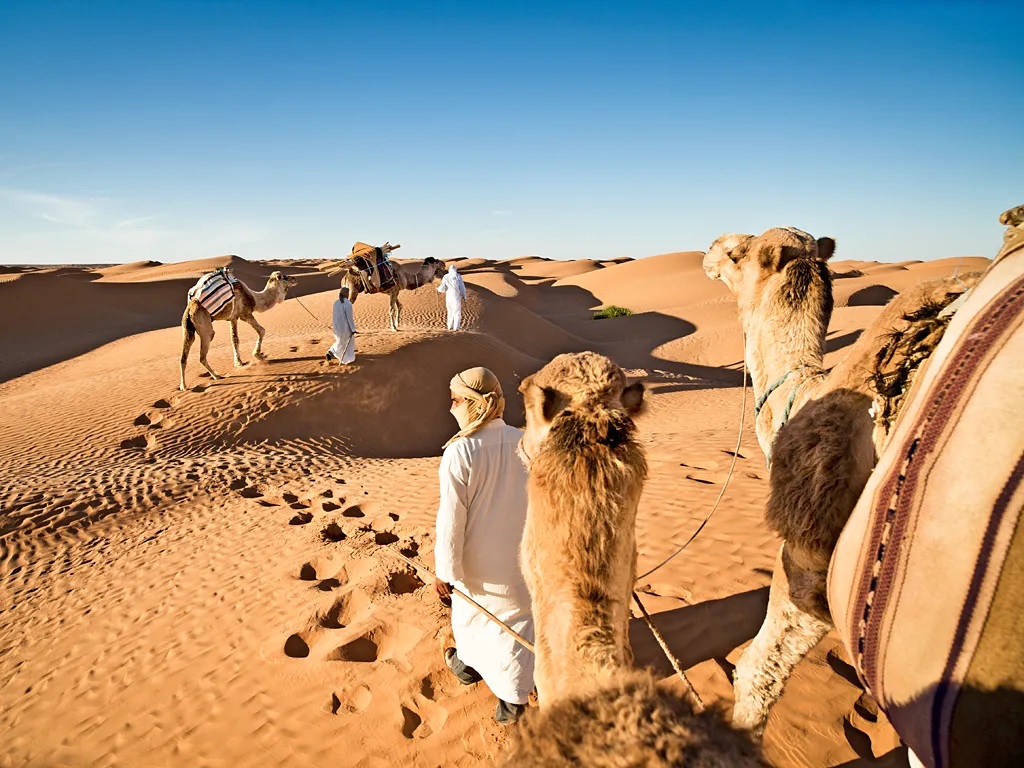 Camel Rides
You find many countries in the world where you can get up face-to-face with camels, but Qatar goes above and beyond. You can choose between taking a camel ride and watching racing in Qatar. Visit the Al Shahaniya Racetrack, which hosts challenging regional and abroad competitions and allows guests to see prestigious camel racing. A common package includes a 1-hour camel ride, hotel transfers, and snacks like Arabic coffee and tea if you want to ride a camel to observe the wonderful desert surroundings.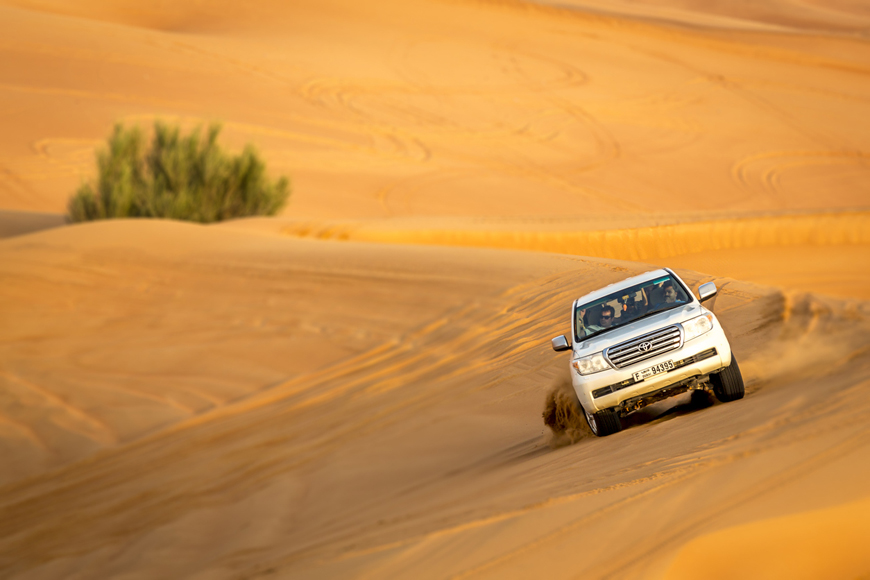 Dune Bashing
One of the best ways to relish Qatar's amazing desert scenery is to go dune-bashing. To get to Khor Al Adaid, you can rent a dune buggy or hire a skilled driver with a 4WD. The gorgeous beaches with sparkling waters and golden sand dunes in this UNESCO-recognized nature reserve are well-known. Remember that dune bashing is an action-packed sport not recommended for those who are easily alarmed.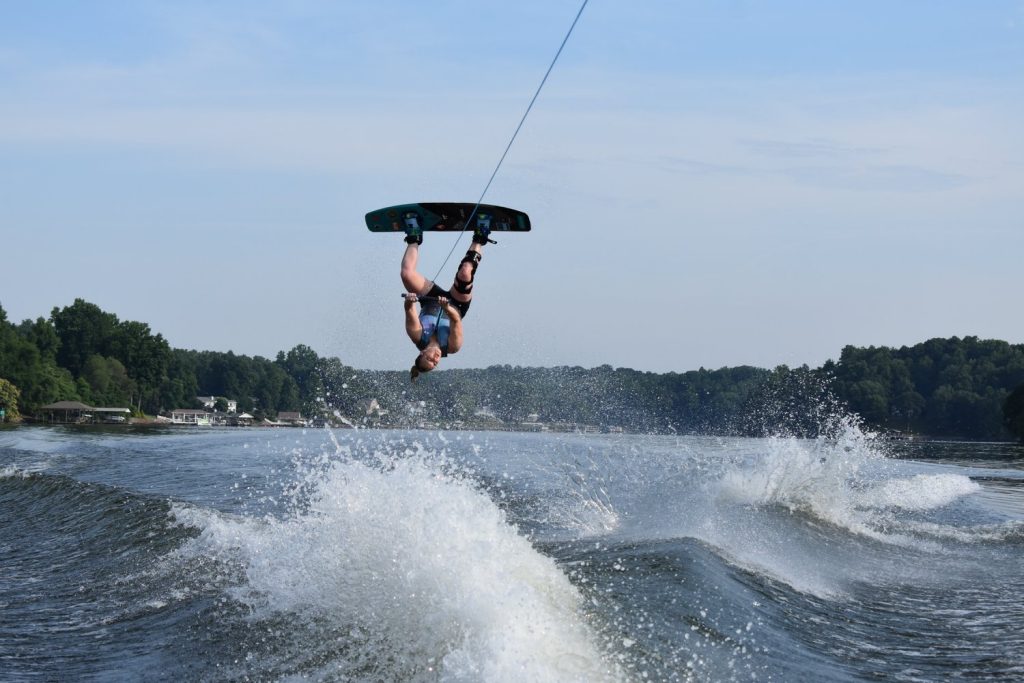 Wakeboarding
Wakeboarding, a sport that combines water skiing and snowboarding, has grown in popularity in Qatar during the past several years. You'll be relieved to hear that learning this water sport is relatively simple if you're a novice. Diplomatic Club is the most incredible place in Doha to experience wakeboarding and is close to Pearl Qatar. Also, Water Sport is on InterContinental Doha's private beach. It is run by water sports lovers who can make their wakeboarding encounter unforgettable. Further, you also experience:
Sailing

Quad biking

Kitesurfing

Skydiving

Rock climbing

Scuba diving
The Best Beaches to Discover Endless Beauty in Qatar
In Arabia, the country of Qatar has deserts and a long gulf coast with beautiful beaches. Doha, the capital of Qatar, is a stunning seaside city with incredible towers and stunning architecture. Along Qatar's coastline, which is around 560 kilometers or 348 miles long, there are beautiful and enticing beaches. In the city of Doha, there are beautiful, conveniently located beaches.
The beaches of Qatar are popular with people looking to escape their frequently busy lifestyles. The sunshine and the ocean when sitting on a sandy beach. It's the perfect location to get relaxed. You can enjoy it more because of the adjacent natural beauty.
To get the most out of your holiday, you should go on an adventure when you visit the beach. Recreational activities are another way to enjoy the seaside. Everywhere along the shore is suitable for a picnic with your family. Also, it's the perfect spot for socializing with buddies. If you go to Qatar, you must see these stunning beaches.
There are some of the best public beaches in Doha, Qatar.
The Best Beaches in Qatar
Al Ghariya Beach

Khor Al Adaid Beach

Ras Abrouq Beach

Fuwairit Beach

Katara Beach

Al Wakra Beach

Simaisma Beach

Sealine Beach
Must Visit Parks and Outdoor Playgrounds in Qatar
Qatar is a fantastic place with many great fun and relaxation spots. Further, it makes the land lush, eco-friendly, and close to nature. Outdoor play offers a variety of sports, gardens, leisure activities, and enjoyment. Many beautiful parks, playgrounds, and outdoor adventure sites can be found throughout the state, allowing you to experience life and entertainment firsthand. When you visit these breathtaking places, you unwind and relish your vacation or free time.
The Best Parks to Roam About In Qatar
MIA Park

Aspire Park

Al Bidda Park

Dahl Al Hamam Park

Al Wakrah Park

Barzan Olympic Park

Al Khor Park

Al Legtaifiya Park

Oxygen Park

Souq Waqif Park

Hotel Park Qatar

Crescent Park Lusail

Sheraton Hotel Park

Katara Green Hills

Al Rumailah Park

Al Muntazah Park

5/6 park

West Bay Park
Emergency Telephone Numbers
Police, Fire, Ambulance: 999

Traffic & Patrol Police Department: 4890666
Internet Connectivity
The world's first commercial 5G network is launched in Qatar. The Hamad International Airport and most public locations, including shops, cafes, and parks, offer free WiFi.
Stopover
Passengers transiting through Doha can take advantage of Qatar's unmatched stopover program to explore the destination. The Qatar program offers great deals at 4 and 5 Star hotels.
Travel and Return Policy in Qatar
All visitors to Qatar must register and upload the required government documentation on the Ehteraz website (www.ehteraz.gov.qa) at least 12 hours before departure. They will be given a Travel Authorization, which they must present to the flight attendants or the border crossing immigration agents to board an aircraft to Qatar. Every tourist coming from a Red Country must submit to another RT PCR and Covid-19 test (at their own expense). If the test is positive, a quarantine procedure is required.
Non-residents of Qatar who are non-immune/unvaccinated must register via the pre-travel registration system for visitors entering the State of Qatar on the website
The Weather of Qatar: A Simple Guide
Qatar has a desert environment with sunshine all year round, scorching summers, and mild winters. The average monthly temperature varies from 17°C in January to 36°C in July, with occasional summertime highs of 40°C or more.
Best Government, Semi Government, and Private Jobs in Qatar
In Qatar, you will apply for government, semi-government and private jobs easily. The most demanding jobs in Qatar are Doctor, Sergen, Paramedical staff, IT manager, Bank Manager, Human resource, Police, Army, and many more jobs waiting for you.
A Few Quick Tips to Help You Find the Best Luxury Properties in Qatar
There are plenty of luxury properties in Qatar, one of the richest countries. The Pearl is the apex of luxury and provides its dwellers with a unique way of life. Villas for sale in the Pearl give a variety of amenities, including breathtaking views, private pools, and access to the beach.
The property owners are also listing their apartments for rent on a short-term basis, under some terms and conditions. They are getting registration to offer rentals to the visitors during the Fifa season. Some of Qatar's most stunning and expensive apartments and villas are in the following locations.
West Bay Lagoon

West Bay

The Pearl

Lusail City

Doha
Some Gorgeous Towers Beautify the Value of Properties in Qatar
Barzan Towers.

Burj Doha Tower.

Al Khor Towers.

Aspire Tower Doha.

Lusail Plaza Towers.

Katara Towers.

Treve Tower.

Twin Tower Lusai
Despite its attraction to elite tourists, Qatar remains affordable for those on a tight budget. The fact that Qatar has high-end hotels, shops, and restaurants does not imply that the country is unaffordable for travelers on a tight budget. In fact, Qatar offers luxurious lodging at incredible prices.
A night at a 5-star hotel in Doha, such as the InterContinental Doha the City, Grand Hyatt Doha, or Mandarin Oriental Doha, might not set you back more than 1,500 riyals. It costs as little as 500 riyals before next season. Doha is also the center for serviced apartments and vacation rentals.
Discover Qatar Like Never Before During Fifa World Cup 22
During this mega sports event of FIFA World Cup 2022, approximately 1.2 million spectators are expected to attend this sports event. Qatar is making the most of this opportunity to host the visitors being a tourism destination and the venue of the FIFA World Cup. There will be much more to see except the football matches for the tourists. The grand skyscrapers of West Bay along the corniche, luxurious hotel accommodations, and the top entertainment venues are awaiting to welcome the guests.
Travel and excursions are at their peak this season, offering the best accommodation in top-class hotels in Doha, Lusail city, and other cities of Qatar. The best apartments, villas, and holiday homes are arranged for visitors. Further, the transport will be excellent, like never before. You can explore and discover Qatar during this season like never before. This venture will push Qatar to a new successful journey with more spirit to upgrade the tourist industry. Many new islands like Al Maha Island, Banana Island, Aaliya, Al Saifiya, and many other new amusement points are ready to welcome you.
Discover Qatar with Saakin
Discover Qatar with Saakin. On the website, get information on Qatar's wonders and luxury properties. We are the best real estate directory that reveals the Qatar real estate market trends. We connect buyers and sellers with our excellent online platform. You can contact us regarding properties for rent and sale in Qatar.
If you need a vacation rental or a serviced apartment for rent, you can contact us. Moreover, the country has a lot of residential and commercial properties for investment. Investors invest in these exquisite properties and get the best return on them.
Saakin is the best real estate directory that provides a comprehensive city guide and property guide. Moreover, you can also read informative blogs on our website to discover Qatar. You can even discover Qatar's cities in our city guide section.
Frequently Asked Questions
Is Discover Qatar Part Of Qatar Airways?
Discover Qatar is the destination management division of Qatar Airways. It aims to continue promoting Qatar as a premium tourist destination.
What Kinds Of Holiday Packages Does Qatar Airways Holidays Offer?
Booking vacation packages, including hotel stays and airfare, is possible online and at one of Qatar Airways Holidays' retail locations. The three main kinds of holidays are last-minute, all-inclusive, and early-bird. Additional options for someone's tour packages include car rentals, activities, and excursions.
Can I Book Holiday Packages From Anywhere in the World?
Qatar Airways Holiday operates in the Gulf Cooperation Council (GCC) in Kuwait and Oman. You can reserve a vacation package if you are from the countries mentioned above. You can make reservations for hotels alone from any location in the world.
Can I Book A Flight Ticket on Qatar Airways?
Yes, you can easily book flight tickets with Qatar Airways, such as hotels, tours, and transfers. For booking flight- tickets.
Is Qatar the Best Tourist Destination?
Suppose you want an adventurous holiday, head to Qatar. It is the best place to enjoy holidays. You can go skydiving through the Arabian Gulf, scuba dive in its seas, climb dunes, and explore historic castles. A desert safari visit is one of Qatar's most popular leisure pursuits.
What is Famous in Qatar?
Regarding locations, Souq Waqif is among the most well-known tourist destinations in Qatar several other attractions. Tourists can purchase various items there, including traditional handmade items, a wide variety of flavorings, jewelry, and beachfront eateries. They can explore more in the many mud-render conventional stores and Qatari skyscrapers that are masterpieces of art.
Which Is the Most Beautiful City in Qatar?
Here Are Ten of the Best Places To Visit in Qatar.
Banana Island.

Khor Al Adaid.

Fuwairit Beach.

Al Jassasiya.

Aspire, Park.

Barzan Towers.

Katara Beach.

Al Safliya Island.
How Can I Book Vacation Rentals in Qatar?
You can book vacation rentals in many ways. The short-term apartments for rent in Qatar offer the best services. You can contact the best real estate agents that connect you to the owners to book short-term apartments for rent. You can book the best hotel apartments for rent through the best real estate directories.
What are the Top Places to See in Lusail City?
Top 8 Places to See In Lusail for the Excellent Holiday
Crescent Park

Lusail Marina

Lusail Stadium

Place Vendome Mall

Lusail sports arena

Marina Twin Towers in Lusail City

Katara Tower Lusail

Entertainment City in Lusail

Al Maha Island Lusail

Winter Wonderland

Venue for International Music Fest

Nammos Beach Club

High-End Dining Restaurants with Unique Tastes

Simaisma Family Beach
How Can I Get to Lusail City?
Lusail is about 20.8 km from Doha via Lusail Expressway. The whole trip can take nearly 25 minutes. You can travel by air, taxi, metro, or even hire a motorcar and reach Lusail. Most visitors usually like staying in Doha and visiting Lusail sometimes. You can hire a taxi or car to get to Doha to get to Lusail. As the cities are close, one can easily travel by road.
Hire a taxi or go to Lusail City via the Doha metro. The metro is a very easy way to get to Lusail city. You can get to the metro from downtown, though, and reach Lusail city in a few minutes. If you are in the heart city, add the metro station. It would help if you took the metro redline to Lusail City. Another option is to use the same line to get to the Lusail Stadium metro station.



Read More: 

How to Check Your Visa Status on the Qatar MOI Website?